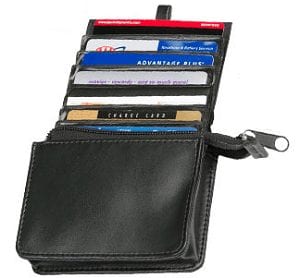 When looking for the right sized wallet it can become quite a challenge. There are so many things that we now need to store in these that it can be hard to find one that is compact yet has all of the capabilities that we require. The Presto Wallet might be a good choice.
Overview
The Presto Wallet is really compact in size yet has an amazing amount of storage room. It allows you to store numerous cards as well as your cash and coins.
The Claim
As with any product the promoters are always trying to find ways to make theirs unique. The wallet industry is laden with competition so anyone offering a newer version better have something that is different to it. The Presto Wallet promoters are zeroing in on the uniqueness of theirs being super compact. In fact, they claim it isn't much bigger than a credit card. Yet, it has the capability of being able to store up to 16 credit cards in a vertical mode.
The Hype
The hype really focuses around being able to see all of your cards at a glance without having to take out a stack on them to look at each one individually. They also put some emphasis on the clear slot piece where you can display your identification without even having to remove it from the wallet.
The Cost
You will have to pay $10. plus $4.99 for shipping and handling if you want to buy the Presto Wallet. Then if you add an extra $4.99 for shipping you can get a second one free.
The Commitment
All it is going to take once you get your Presto Wallet is to organize your cards and put them in the various slots. At first you may have trouble finding this compact item in your purse as its not big and bulky like standard wallets are.
Evaluation
While the Presto Wallet may not possess the high quality leather that you may be used to, it is supposed to be made of good quality faux leather. It is being promoted as being durable. It is available in three different colors so you have some nice choices here.
Final Presto Wallet Review
We're going to give the Presto Wallet a Thumbs Up rating. The size of it is appealing. It also has some built in technology to prevent thieves from using electromagnetic devices to gain information from your card. We find it to be reasonably priced and it might make an excellent gift for those on your list that you never know what to buy for them
Our Recommendation
The Presto Wallet is ideal for those that have a lot of cards that they need to carry with them. It doesn't have a lot of different compartments but the fold out card holder makes up for this. We have reviewed a few different types of wallets in the past that were also supposed to be unique. The Aluma Wallet was one of these but it didn't make a great impression. Another one was the Tuff Wallet that was also kind of unique.
What do you think? Does the Presto Wallet work or not?