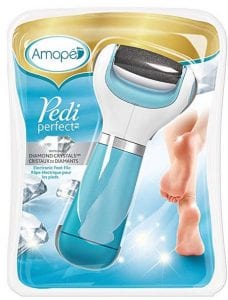 During the summer months, a lot of people want to take extra care of their feet. It is the time of year for sandals and walking barefoot. This means that those tender tootsies need to be looking their best, and Amope may be able to help with this.
What Is Amope?
Amope is a battery-operated, electronic foot file designed to remove rough skin from the feet. The Amope reduces calluses from building up and is a great tool to add to your regular foot care. Regular use of the Amope provides beautiful smooth skin.
How Does Amope Work?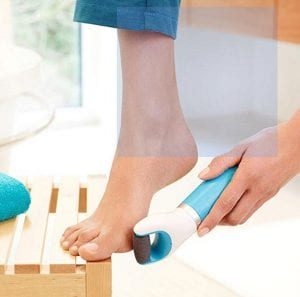 The Amope consists of a course roller file that spins. When applied to rough skin, the Amope will gently buff away rough or dead skin. The original model is for use on dry feet. Due to the fact that this is an electronic foot file, it doesn't take much to smooth the area being treated.
How To Use Amope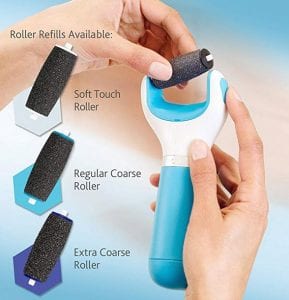 The Amope has an ergonomically designed soft-touch handle for comfortable use. Its micro-abrasive rollers make dead skin removal easy. Before you begin, wash your feet thoroughly and dry them fully. Turn on the electronic foot file and roll it across rough skin on your feet. Do not push down on the device, simply allow the roller to move across the skin.
Always ensure you do not hold the Amope in one area of the foot for longer than 3 or 4 seconds. After use, rinse your feet off removing all the dead skin. Your feet will feel softer and smoother, even with just one use. Always clean the Amope roller after each use. Simply ensure the unit is turned off, push the button on the side to release the roller and rinse well with water The outer case can be wiped down with a dry cloth. Once both are completely dry, reassemble and store. Always remember to keep the cover on the file.
After Amope Use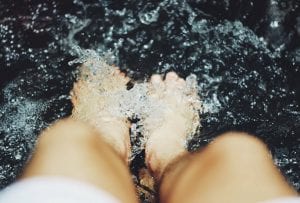 Once you have removed all the dead, dry skin on your feet with your Amope, enjoy a luxurious foot soak. This helps to soothe tired feet. After your foot soak, dry your feet and apply a foot moisturizer to keep your feet soft and subtle.
Advantages of Amope
When you own an Amope, it provides you with many advantages.
Save Money
Do it yourself pedicures is a sure way to put more money in your pocket. Attending spas for pedicures can be quite costly. Additional roller files are available to purchase, so you can enjoy the use of your product for years to come.
Safety
By using your own device, you can feel confident that your electronic file is clean. No need to worry about the possibility of contaminated equipment at commercial spas. Some people have had bad experiences while getting professional pedicures. An inexperienced clinician can injure or do damage to delicate feet.
Health
Many people think that footcare is for cosmetic reasons only. A healthy footcare routine can avoid foot complications down the road. calluses are a build-up of hard skin on the area of the foot that is weight-bearing. Untreated calluses can lead to fissuring of the callus and can become very painful. Taking proper care of your feet can help avoid painful callused skin build-ups.
Treatment for Plantar Calluses
These calluses form on the plantar side of the foot and are commonly found on those that are highly active. Many joggers or walkers form plantar calluses and they can become quite painful. Using an Amope can greatly reduce plantar calluses, eliminating the pain that is associated with them.
Footcare and Diabetes
Foot problems are extremely common with those who have diabetes. For some people, this can lead to serious complications. Diabetes can cause poor blood flow to the feet and can cause nerve damage. Daily foot care is imperative for those inflicted with diabetes. Prevention is always the best medicine. As diabetes can affect the nerves in the feet, many people do not feel the pain associated with callus build-up, therefore it is important to follow a healthy daily foot care routine.
Ways To Prevent callus Build-up
There are several ways you can help to prevent the build-up of calluses. Following these guidelines can help:
Proper fitting footwear
Wear footwear indoors
Use orthotic inserts in shoes
Discard old shoes
Never walk barefoot
Follow a daily foot care routine
See a doctor if calluses are re-occurring
Where Can I Buy Amope?
Amope is available in several locations. It can be purchased online through Amope.com, well.ca and Amazon. It is also available in many retail stores such as:
Walmart
Shoppers Drug Mart
CVS
London Drugs
Best Buy
And many other retail stores.
How Much Does Amope Cost?
The cost of the Amope depends on where you purchase it. For example, if you purchase the original Amope from Amope.com it is currently on sale for $19.99. Amazon.com sells it for $20.50, however, for shipments to Canada, there is an additional $10.45 shipping and import fee. Walmart.com sells it for $19.88. Additional rollers can be purchased at varying costs.
Customer Reviews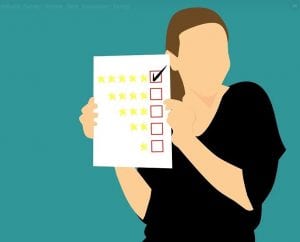 The Amope has received a 4.1 out of 5-star rating by Amazon customers. Customers find this product easy to hold and easy to use.
One Amazon customer stated:
"I've struggled with my feet for as long as I can remember, paying for pedicures only for my feet to feel a little smooth, but the cracks remained. In 5 minutes I have new feet!!"
I personally own an Amope and love it! It does exactly what it is meant to do. My feet have never looked and felt so good.
Recommendation
This is a great product for at-home foot care. Amope also has a newer version available, the Amope Pediperfect Advance. They have also released the wet and dry version that is waterproof and rechargeable. We recommend you also try the Amope Pedimasks for extra moisturizing effects. The wet/dry rechargeable version may be your best buy.
Options
If you are dealing with cracked feet then you are going to need to go one step further and treat these. There are some excellent creams available to help with this.