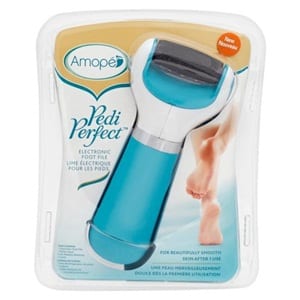 During the summer months a lot of people want to take extra care of their feet. It is the time of year for sandals and walking barefoot. This means that those tender tootsies need to be looking their best, and Amope may be able to help with this.
Overview
Amope is a quality electric foot file that has been designed to remove rough skin and reduce the build up of callouses that can appear on the feet.One of the good features about this product is that you can buy replacement files, so its not a one time use type of foot file that you have to discard when the file becomes worn.
The Claim
The promoters claim that the Amope is easy to use and it does the job gently within seconds. They are claiming that it is perfect for home use. It is battery operated.
The Hype
One of the important aspects the marketers zero in on is there are no harsh blades that can cause serious injury to the feet. Many people will use those types of devices to pare down the built up skin which can be dangerous. Another factor they are focusing on is that it is ergonomically designed so it fits nicely in the hand making it easy to use.
The Cost
On Amazon you can purchase the Amope for $34.32, however there are many other places where you can purchase the Amope like at Target for example, but the prices are roughly the same.
The Commitment
You are going to have to use the Amope to first get your feet in good condition then use it to keep them that way. Every person is different and how much dry skin build up you get will depend on a lot of things. One of the most important aspects is your gait. If the way you walk puts extra pressure on some spots on your feet then these are likely to callus. Other people tend to get dry skin on their feet but with no real build up. Either way the Amope will work well.
Evaluation
There are a lot of foot files on the market. Some are manually operated while some are electric and others are battery operated like this one. This one has all of the features and perhaps more than what you will find with some of the others. It really is important to keep your feet in good shape so when a product like this helps you do that then it is worth considering.
Final Amope Review
We are going to give the Amope a Thumbs Up rating. It has gotten many excellent reviews on Amazon and presently carries a 4.4 out of 5 star ratings based on 4,010 reviews. That's pretty impressive.
Our Recommendation
Don't buy the Amope because you have seen it being advertised heavily on TV lately. Buy it based on the customer reviews and with the intent on using it on a regular basis. Make sure you read the instructions and follow them carefully. Some foot files are meant to be used on wet feet, or after they have been soaked. The Amope is not, and is meant to be used on dry feet. If you really are insistent on something a little more aggressive then you may want to look at the Microplane foot file that we reviewed as it is also getting some good ratings but on a much smaller scale.
What do you think? Does Amope work or not?