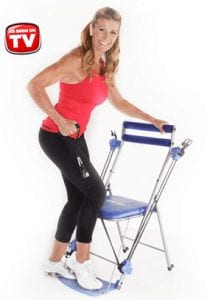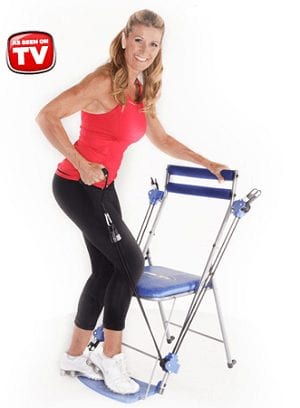 Even though the weather is nice and most people can get out to do their exercises, a product like the Chair Gym may be appealing because of its size and versatility.
Overview
The Chair Gym is yet another piece of exercise equipment. It is compact and has a lot of work out gadgets attached to it, but basically looks like a fold up chair. The design and compact design will definitely get your attention. It is designed with 3 levels of adjustable bands. Then it folds and rolls away for easy storage.
The Claim
The company claims that using the Chair Gym is the easiest way for anyone to get a total workout each day by dedicating just minutes to it. The are claiming that over 50 different exercises can be carried out on it. While it looks compact and maybe a little delicate they are saying it can easily hold up to 350 pounds.
The Hype
The structure and size of the Chair Gym lends to the hype of this product. It is compact and easy to store which is appealing to many people. Most individuals who want to have a workout resource don't want something that is bulky and takes up a lot of room. The fact that they are indicating that this exerciser has three levels and that 50 types of exercises can be carried out also lends to the hype that it is a performer.
The Cost
You may be thinking that because the Chair Gym seems so compact that it won't be as pricey as most of this type of equipment is. It isn't cheap and you can expect to pay $149.75 with free shipping. It can be broken down into payments of $29.95.
The Commitment
As with any exercise equipment you are going to have to dedicate yourself to setting up a workout routine if you are looking for significant results that any exercise program will bring you. Exercising isn't just a once in a while thing. You will also probably want to set up a proper diet for yourself which will depend on what your objectives are.
Evaluation
Any exercise equipment if it is well made is something good to have. If you don't want the expense of having to go to the gym, or do outdoor exercising then this type of alternative is a good thing. This Chair Gym has some benefits of being able to store easily. The important question is, is it going to give you all the versatility in the workouts that you want compared to the price you will be paying for it.
Final Chair Gym Review
We're going to give the Chair Gym a Try/Buy rating. If the testimonies in the video are to be believed then it comes with the offering of a lot of potential benefits. We hesitate to go all the way with a thumbs up rating because there are some negative feed backs on Amazon for the product that seem valid. Out of 184 reviews it is getting a 4.4 star rating which over all is pretty good. It has had 21 negative reviews compared to 163 positive ones. When you compare it to some of the resistance chairs used for physio this product is priced pretty reasonable.
Our Recommendation
If you are going to invest in exercise equipment you are going to have to be prepared to spend some bucks. That is if you want quality and want equipment that is going to produce some results for you. You also need to study the equipment carefully to ensure it is going to provide you with the opportunity to do a whole variety of exercises that will lead you to specific goals. If your priority is just one area of your body, then you don't need to invest in a whole workout piece of equipment. For example, if its the upper body that is of interest to your building up then you could get away with a product like Chest Magic., but don't be surprised when you discover that speciality area training equipment is not all that cheap either.
What do you think? Does the Chair Gym work or not?