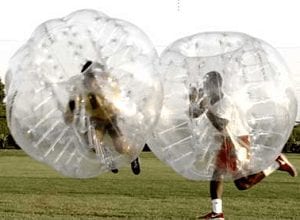 It is always fun to review a product or service that may just take off as a trend and really become something hot in the future. So when we came across Knocker Ball we were intrigued that this might be an up and coming source of entertainment that everyone wants to be part of.
Overview
Knocker Ball is a large round ball chamber of air, that you can emmerse a good portion of your body in, and get ready for some really unique fun. It has inner handles and straps and is designed to let you rough it up with some friends just playing around, or playing a newly found contact sport yet keep you safe from all the contact types of injuries that comes with this level of sports.
The Claim
The company is claiming that this product really allows you to defy gravity and possibly pain from making contact with an opponent it a variety of different contact sports. They are stating that there are tons of things you can do with it like knock your opponents, play soccer without getting hurt, and even do some stunts within it. While it seems to be designed as at least two people fun with each having their own Knocker Ball, all indications are it can act as a entertainment pleaser just for the individual.
The Hype
The hype is really all out for this product as the marketers are really trying to spur it into a new and upcoming trend where almost everyone will just have to have a knocker ball. Now this may exclude the very young and the very old at the moment, but it sure could be enticing for those over the age of 18 as it is specifically recommended for this age group. It comes in two sizes one being large and the other medium.  Just imagine being able to let loose and rough it up a bit and not have to worry about getting hurt.
The Cost
You may have guessed that the Knocker Ball with its amazing design and size is not going to be cheap. You are looking at paying about $250. plus $18. shipping. There are some current promos running where the more you buy the better price you get, but there is still a substantial cost.
The Commitment
First you are going to have to follow all of the instructions for setting it up, and this is probably something you are going to have to do each and every time you want to use it. Unless of course you have plenty of room to store it in its inflated state. Chances are you are really going to want to find others that are looking to have the same potential fun as you so this means find one or more people that are willing to invest the money into the purchase of the Knocker Ball.
Evaluation
Now this really does look like a lot of fun, and you can see why chances are you aren't going to hurt yourself at least it seems that way by first glance. This product however does not come without some substantial precautions. There are strict warnings on their site not to attempt any of the stunts you see there without permission from your medical professional. They also make it very clear that they had medical personnel on site when demonstrating this product for their promo. There are some actual warnings concerning specific medical conditions that those who suffer from them should get medical clearance first before using the Knocker Ball.
Final Knocker Ball Review
We are going to give the Knocker Ball a solid Try/Buy but with some conditions. We only recommend this for individuals who are really going to follow all of the recommendations as they are made by the providers of the Knocker Ball. Also, if you don't want this item just to become a passing fancy, then you really should decide to put some effort into getting others to join you in your purchase so you have some cohorts to enjoy this with.
Our Recommendation
We really enjoy bring unique products and services to our readers, but we also like to bring those that are either going to provide some real value or promote our doubts about them so you can reach your own conclusions. For example, we told you about the Gripz Baseball and this is something that several are finding to be quite a valuable product. In regards to the Knocker Ball we wondered is this really something that a lot of people would potentially enjoy. What we found is that there was actually an attraction called the Branson Ballknocker that you could pay to spend some time in with a few friends. While it has several differences compared to the Knocker Ball it also has some similarities.
What do you think? Does Knocker Ball work or not?