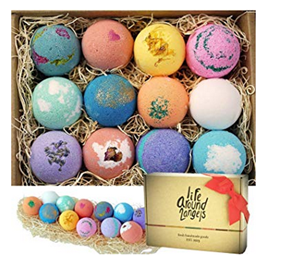 Everyone deserves to pamper themselves whenever they can get the chance. Most people have turned to using showers now for their bathing needs as this is quick and easy. But, having a long comforting soak in a bath can do wonders for helping to relieve stress and for being kind to the skin. To enhance this experience a lot of people use the LifeAround2Angels Bath Bombs. These are available as a gift set and are a very popular product.
Overview
The LifeAround2Angels Bath Bombs can be bought as a 12 pack gift set. Although a lot of people buy these for themselves because they like the selection of bath bombs it contains. Each bath bomb is individually wrapped and is comprised of ingredients that are appropriate for normal to dry skin.
The Claim
The promoters of LifeAround2Angels Bath Bombs claim that they are therapeutic moisturizing. They are made in the US and made with US ingredients. They also claim that the fizzes will not stain the tub.
The Hype
The hype surrounding the LifeAround2Angels Bath Bombs is that they are all different. Some have beautiful colors to them. Others may contain additional natural additives like flower petals. Each of them have their own wonderful and unique scent to them. The manufacturing process is based on a "green" priority. Another important factor is that they are manufactured in a clean environment.
The Cost
The LifeAround2Angels Bath Bombs gift set sells for $24.80.
The Commitment
The commitment for the LifeAround2Angels Bath Bombs if being bought for oneself really comes down to taking the time out for yourself to sit in a tub of warm water and enjoy what each of these bath bombs have to offer. Most likely after experiencing this once you will not need coaxing to repeat the experience again as long as you have some of the LifeAround2Angels Bath Bombs remaining.
Evaluation
The evaluation for LifeAround2Angels Bath Bombs is relatively simple as this bath bombs have a lot of positive features about them. They contain exceptional ingredients like shea and coco butter. They are handcrafted. Each of the 12 have their own scent like black raspberry vanilla, lavender and Victorian rose just to name a few.
Final LifeAround2Angels Bath Bombs Review
With most products it is really hard to get a large number of individuals to give them a five out of five star rating. But that is not the case with the LifeAround2Angels Bath Bombs. Out of 1,902 reviews this product has received 4.8 out of 5 which is about as close to being perfect that one could hope for with a beauty care products. Another big feature about the LifeAround2Angels Bath Bombs is that this gift set is really reasonably prices. The feedback spans many different comments such as the fragrances are just right meaning they are not over powering, nor do they lose their aroma when in the bath. The fizz is great and long lasting. The ingredients really do enhance the skin.
Our Recommendation
The kids deserve to have their fun in the tub too and the Tubaroos will make sure of this
will make sure of this.
What do you think? Does the LifeAround2Angels Bath Bombs work or not?