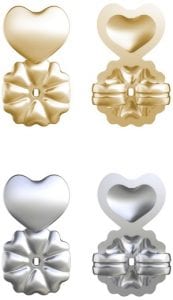 A lot of women like to be able to wear any type of earrings they choose. However, if over time their ear lobes have stretched, or the earrings are too heavy this can be a problem. There just might be a solution to this and it is called MagicBax.
Overview
MagicBax is a set of earring backings that help to support the weight of the earrings you choose to wear.If you have had a bad experience with your ear piercings, or your ear lobes have stretched then MagicBax can help to secure the earrings in a proper position. They are hypoallergenic and they are easy to use and are really comfortable.
The Claim
The promoters of MagicBax are saying that this product is a big solution for the general problems that earring wearers run into. They say that the MagicBax can work with all sizes of earring posts.
The Hype
They hype about MagicBax is that it provides you with a solution where you no longer have to worry about your earrings not sitting properly or being uncomfortable to wear.
The Cost
The cost for MagicBax is around $19.90 depending on where you buy them. For this you receive a set of four sterling silver and 18K Gold Plated Sterling Silver. You may also have to pay $6.99 shipping and handling.
The Commitment
There really isn't much of a commitment needed for using the MaxicBax. You simply slide them onto the posts of the earrings that you want to wear, and that's it. It's just a matter of remembering to use them.
Evaluation
It is most apparent that these common problems that MagicBax is able to solve are quite frequent among many earring wearers. This has created a demand for a product like MagicBax and it seems to be the solution. Many people pay a lot of money for their earrings and if it ends up that they can't wear them for some of the reasons outlined then this is really disappointing. Being able to have an affordable solution that prevents this can be a real bonus. Basically what MagicBax is doing is giving your earrings more of a backing and helping to support the weight if the earrings you are wearing are heavy. When the hole piercings stretch quite often even flat or light earrings will not stay in position and MagicBax may be able to help with this.
Final MagicBax Review
MagicBax seems to be a fairly new product so there really isn't a lot of consumer feedback to rely on as yet. Overall we are prepared to give it a try/buy because we believe it meets a need. The components are of good quality and they really do look nice. Plus, they are easy to use.
Our Recommendation
While MagicBax seems like a good idea which it is, its not the first company to come out with providing a solution for these problems. Another Company that we have talked about in the past does basically the same thing which is Lobe Magic, but there are some differences between these two products which you may want to check out.
What do you think? Does MagicBax work or not?