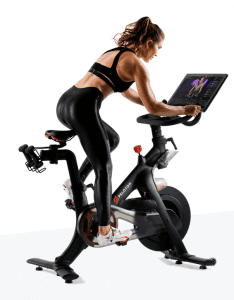 For those that are really serious about their exercising they don't mind making big investments into the equipment that will help them meet their goals. Is a product like Peloton one that should be added to the list of "must haves"?
Overview
Peloton is a high end exercise bike that many will say has it all. What has really brought this piece of exercise equipment to the high end level is the extras. These are the great features like being able to watch live streaming exercise programs, as well as participate in online classes.
The Claim
The promoters of Peloton are claiming this piece of equipment to be the cutting edge in the exercise industry. They are proud of their live and on demand classes. Plus, they boast of users having access to the best instructors in the world via these classes.
The Hype
The hype around the Peloton is that you can access all of the programs while you are actually using the bike. You can forget about having to watch a program first on TV, then jumping on your bike to try and duplicate it.
The Cost
The cost for Peloton is certainly not cheap at around $3,000. For the initial investment. Then if you want to take full advantage of the live streaming and training programs you need to join the membership which will cost you around $400 a year.
The Commitment
If you are going to invest in the Peloton then you better be prepared for a big commitment. Spending this type of money should be an indicator that you are serious about getting into shape through the use of this exercise equipment. If there is any risk that this is a passing fancy for you, then perhaps you would be better off investing in a less expensive piece of equipment.
Evaluation
When evaluating the Peloton bike big consideration has to be given to just how many of these have been sold. To date it looks like about more than 150,000 of them. So obviously this Peloton has a lot of merit to it. It really is the Cadillac of exercise bikes. What we really like about it is the ability to easily access some top quality training programs. For those who have a competitive nature this bike allows for some great competing.
Final Peloton Review
Aside from the cutting edge technology that the Peloton is comprised of it has some other great features about it. The quality is impressive but added to this is its compact size. It appears to have only recently been added to Amazon and while there are only 78 reviews so far, the rating is not all that impressive. Out of 78 reviews it has only received 2.3 stars. Based on this at least until more feedback becomes available we are going to give the Peloton a try/buy rating.
Our Recommendation
The Peloton comes with a hefty price tag and if it is not going to meet all of your needs or perform to your expectations then it may not be worth the investment. Before you make your final decision you may want to check out some of the other similar products that we have talked about like the SmoothXBike.
What do you think? Does Peloton work or not?