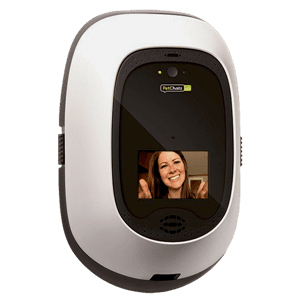 Those that have pets and they have to leave them for long periods of the day are often concerned as to what their pets are up to during the day, especially if they happen to be a little on the naughty side. Keeping in touch with them has never been easier.
Overview
The Pet Chatz system is a way to seamlessly communicate with your beloved pet wirelessly while you are away from home.
The Claim
The claim is that by using the Pet Chatz system you can have a 2 way voice and video link to your animal while you are away from home that allows you to both see and talk to your pet and even give them a healthy treat or a scent related reminder that you are not far away.
The Hype
The hype comes from the fact that you can both talk and see your animal and even remotely give them a treat when you cannot be with them offering them security in being able to see and hear your reassuring voice and image.
The Cost
The cost of a Pet Chatz system is $379.00.
The Commitment
The only real commitment required is for the installation of the Pet Chatz system which is pretty simple overall. You need to simply position the unit over a low wall socket and then install the bracket so that the unit will be positioned correctly and then attach the system to the bracket. The fact it connects right over the outlet means that there are no cords or wires for your animal to chew and potentially injure themselves with.
Evaluation
This unit is pretty cool and certainly keeps up with the technology that has emerged over the past year or two. You get the ability to both see and talk to your animal via wifi and can even give them a healthy treat by pushing a button on your computer or smartphone which send a signal to the unit and releases a treat from the Pet Chatz system. You can even play with you animal via the PetChatz and the unit has a sound and motion detector built in with alerts sent to your devices. There is also another component that can be purchased separately that allows the animal to be trained to call YOU. The PetChatz Pawcall is a device that sits separately from the main unit and can be triggered by the animal resulting in an alert to your device that the animal is calling you. There is also a calming PetChatz scent that can also be remotely triggered to calm your animal with a soothing, aromatic scent.
Final Pet Chatz System Review
If you are like many people who hate being away from their animals for any length of time and always wonder exactly what they get up to when you are away then the PetChatz system is for you. Great idea that pet lovers will simply love! As pet lovers that love anything that helps us stay connected to our pets we are going to give this a thumbs up rating.
Our Recommendation
If you like the idea of being able to communicate with your animal remotely and have an extra $350+ floating around then the Pet Chatz system is one you won't want to miss. Pretty good idea overall, just a little expensive for our tastes! Check out our comments on pet monitors in general.
What do you think? Does the Pet Chatz System work or not?