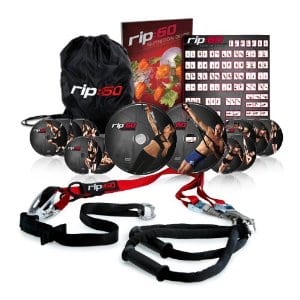 rip:60 is a home workout unit that straps to your door frame and allows you to do many different exercises that you typically only find in some gyms. It's promoted by Jillian Michaels who you probably recognize from The Biggest Loser. She's one of the trainers the trains one of the teams and helps them shed so many pounds in a relatively short period. But is her endorsement placed behind the right product, or does this one fall short?
Overview
Home training systems have taken things to a whole new level in recent years. The gadgets are getting more sophisticated, the programs are getting more intense, and people are actually getting real results without having to go to a gym. In the 90's and early 2000's the same sort of systems did not have the results that people have been getting lately. It seems that more research is not into the development of these products, and they've cracked the code on how to get a gym–caliber work out for home.
The Claim
They say that in just 60 days, spending just 60 minutes per day, you will be able to get the body that you want, and get that "ripped" look. The reason they draw so much attention to the 60 day timeframe is because they are trying to compete directly with P90X, which takes 90 days to complete.
Jillian also claims that they give you the system and the tools to get ripped in 60 days, and all you have to do is show up. This may be a very valid claim, and she is acknowledging the fact that you will still have to do the work if you want to see the results.
The Hype
Anytime you get a big-name celebrity like Jillian Michaels to endorse your product, there will be some hype involved. Especially because she is so well known, and on the TV, people think that this must be a product they can get them the same sort of results they see on The Biggest Loser program.
The Cost
The rip:60 program is $120 if you buy it all at once, but they let you spread it out over three payments of $40, so it's up to you which we want to go because there's no extra charges for financing.
The Commitment
Like any workout program, you definitely have to be committed and stay committed to seeing the results you want. 60 days is not very long, but 60 minutes per day might be more than most people are willing to do. Working out every day is hard to keep up with, and most doctors recommend only exercising 3 to 4 times per week. Also, many trainers and fitness gurus say that your body needs to rest in between workout sessions for chance to let your muscles heal.
Their workout chart says to take Saturday and Sunday off, but this is not really a good idea because you may regress back to your old eating ways and you may not feel like getting back into the swing of things come Monday. Also, they recommend working out Monday through Friday, but this is usually people's busiest time of the week, so packing in a one-hour workout might not be feasible.
Evaluation
This is a very comprehensive system, and doesn't leave much out. You're basically getting everything you need for success, including the DVDs so you can see how it's done, the training equipment so you can do all of the different exercises, a workout chart so you don't get bored doing the same exact exercises every single day, and the food guide so you know what to eat while you're going through the process.
What People Are Saying
rip:60 has been put through the ringer by all sorts of different people, from the Average Joe, to personal trainers and fitness instructors. The resounding answer is that yes, this is a product that works. It's refreshing to see so many positive reviews for fitness product, because so many others get a mixed bag of positives and negatives. It seems like they did a lot of things right with this system.
Final rip:60 Review
It's hard to argue about rip:60 being able to give you results if you put the time in. With all of the different exercises you can do, and all of the innovative positions they've thought up, it's almost like you have an expensive piece of exercise equipment for low-cost. Definitely give this a try if you been searching for an at-home system with a twist.
Our Recommendation
Based on all the positive feedback, we recommend the rip:60 workout program, with one minor adjustment. Double the time they say it takes to get the body that you want, and only work out half as much as they say to. That means you should only spend 60 minutes per day, every other day for 120 days. This will help you get there more effortlessly, and will increase your chances of sticking with it and getting the body that you want.
Official Website: rip:60
What do you think? Does rip:60 work or not?