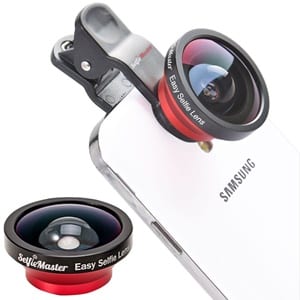 If you like the results that you get from selfie sticks but don't like the hassle of using them then this SelfieMaster SM-501 Easy Selfie Lens may be more to your liking. Almost everyone likes to take a pic or two of themselves and it just got a whole lot easier.
Overview
The SelfieMaster SM-501 Easy Selfie Lens is designed to make taking inclusive selfies possible and easy to do.
The Claim
The claim is that by attaching the SelfieMaster SM-501 Wide Angle Selfie lens to your smartphone you will be able to take selfies with more people and landscape behind you.
The Hype
The hype is realized by the fact that taking selfies has exploded in the U.S and around the world. It has become a part of the fabric of life in a social media driven age.
The Cost
The cost of the SelfieMaster SM-501 Easy Selfie Lens is only $25.99. There are others that are less money but the quality of this unit makes it worth the few extra dollars.
The Commitment
Not much commitment required for this unit. When you want to take a wide angle selfie you simply clip the SelfieMaster onto a smartphone and click away. When not in use you simply pop on the lens cap store it in the storage bag that is included with the purchase of the SelfieMaster. Pretty simple.
Evaluation
For better or worse selfies have become a part of life. They are an accepted form of photography in today's social media driven society and they have boomed into an industry unto themselves with the advent of selfie sticks and other accessories designed to make taking them easier and more efficient. As anyone who has taken a selfie knows too well the biggest problem is that you can only fit so many people or background into the picture when taken from a smartphone. The SelfieMaster Wide Angle Lens allows you to get a much larger background image than you would get normally or to include many more people into the selfie without having to scrunch together. It offers 14 degrees of wide angle with very little distortion and the 0.4 magnification makes it well suited for all types of selfies. Very easy to use, you simply clip it on the smartphone. It will work with most tablets and smartphones including the iPhone6
Final SelfieMaster SM-501 Easy Selfie Lens Review
The SelfieMaster SM-501 Wide Angle Selfie lens is a great way to get more inclusive pictures when taking a selfie. Easy to use and well made it does exactly what it is supposed to do and makes taking selfie more fun and much easier on the subjects as there is no longer the need to get so up close and personal with your fellow subjects. We are going to give this product a thumbs up rating.
Our Recommendation
For anyone who loves to take selfies and want to include more people or more background this unit is for you. Well-made and pretty cheap in price if you love selfies grab and start clicking away! If you are interested in selfie sticks then we have talked about a few of those as well.
What do you think? Does the SelfieMaster SM-501 Easy Selfie Lens work or not?