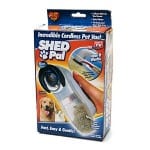 It's no wonder most pet owners want to try Shed Pal. Pet shedding is a hassle – fur gets everywhere in the home and it is so hard to clean up. For people that don't have time to vacuum every surface of their house every day to keep it fur-free, a shedding pet can be a nightmare.
The creators of Shed Pal took frustrated dog and cat owners into consideration when they designed this nifty hand-held vacuum cleaner for a pet.
Overview
The Shed Pal is supposed to be an owner's new best friend – it is one of the products made to make a person's life easier by adapting on two things in daily life: a vacuum cleaner and a brush. Shed Pal uses a gentle suction technology on the pet's skin in order to suck out loose fur without harming the pet itself while giving them the same sensation of being brushed. This is to assist in clean-up of shed fur because it stores it all in a cylinder that can be emptied upon being filled. Because it is handheld and cordless, the Shed Pal can go anywhere to help you chase pesky pets.
The Claim
Shed Pal is designed like a brush to run over a dog or cat's coat in order to suck up loose fur that they are about to shed. With its U-shaped brush and massaging nubs, Shed Pal claims to be able to pick up the hair shedding from the top coat as well as all the hair that is buried under in the bottom coat. Shed Pal is supposed to stop fur shedding before it leaves the pet's back but suctioning it up – like a lint roller for a pet.
The Hype
The Shed Pal has a lot of talk surrounding it, being a product that, in theory, really helps out the average pet owner who doesn't have enough time to clean their entire house of pet fur. The Shed Pal's talk, however, is mostly negative after consumers have found themselves dissatisfied with the product.
The Cost
A Shed Pal runs for around $15 from various online stores, or $20 on the product website. All that comes in the Shed Pal is the cordless cleaner itself and that's it – making it what would seem to be a pretty good deal all things considered if the product worked properly.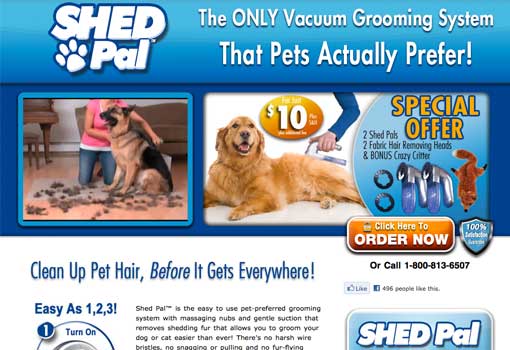 The Commitment
The Shed Pal doesn't take much commitment – just turn it on and suck away! Because the Shed Pal is a cordless device, it is easy to take wherever you need and use it accordingly. There are no special steps or instructions to the Shed Pal, so simply go on and use it as you would any other brush/vacuum combination!
Evaluation
The Shed Pal is supposed to be a pet owner's best friend, but it is a borderline useless product that should never be marketed to the public again. Users of the Shed Pal have all complained that the product doesn't actually work on their pets the way it says it will, and most even go so far to say that it doesn't work on pet hair at all. The fur gets trapped in the mechanism and doesn't allow the Shed Pal to function properly, making it both a poorly made and ineffective product in the long run.
Furthermore, the Shed Pal is falsely advertised because, in the product directions, it is specifically stated that the Shed Pal is not to be used as a vacuum while brushing the pet, defeating the entire purpose of the product. The Shed Pal is a total waste of time and money.
Final Shed Pal Review
The Shed Pal is not a product worth twenty dollars, or even five. It is cheaply made, ineffective, and overall a bad product. While this could have been great for all pet owners, the design clearly did not have enough thought put in to it. For this, the Shed Pal is not a worthwhile product by any sense of the word.
Our Recommendation
Stay far, far away from using a Shed Pal. This product will just put you out twenty dollars on what you could have used to buy your pet a new wire brush and a lint roller for your furniture. The Shed Pal is no more than a failed attempt at making money quickly without stopping to create a quality gadget. If you're still desperate for a dog fur fix, try out our review of ShedMonster as a possible solution.
What do you think? Does Shed Pal work or not?