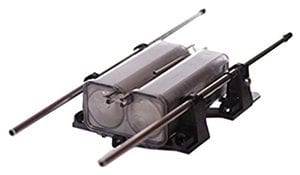 One of the biggest fears and concerns is a fire within the home. Many times these start from cooking. When grease or something ignites on the stove it causes instant panic and is the type of fire that can get out of control very quickly. A new product has hit the market to help deal with this situation and its called the Stove Ranger
Overview
According to the promoters of Stove Ranger this is a device that is promoted as a fire suppression system that is installed for electric stove top.
The Claim
The claim is that the Stove Ranger device is able to detect a fire and then release a non toxic substance to smother the fire. This will also prevent it from re-igniting.
The Hype
The hype not only revolves around the ability of the Stove Ranger to be able to put the fire out and prevent it from starting again, it has built in sensors to trigger the device automatically as soon as it detects the oil or grease fire.
The Cost
You can expect to pay $99.99 if you purchase it from the promo site plus extra for shipping and handling. It is currently available at Amazon where you can most likely pick it up for a cheaper price.
The Commitment
The commitment will first be installing the Stove Ranger which is reportedly not difficult to do. From there you will have the security of knowing you have some extra protection in place. However, in no way should you ever let your guard down regarding stove top fires. The stats for this type of fire situation is astounding.
Evaluation
This is a very new product to hit the market, and is one that revolves around a unique concept. Based on this it is difficult to give it a valid evaluation. One would think that it would have had to pass all of the regulations that pertain to this type of product. It also has a patent pending.
Final Stove Ranger Review
We are going to give the Stove Ranger a Try/Buy rating. Only because it is so new and has not received any type of reliable feedback as yet. We like the idea of the concept. It is so easy for a grease fire to start and get out of hand quickly. Having a way of being able to deal with this quickly while informing the first responders is really a valuable asset. It may also be ideal for seniors who sometimes tend to forget that they have something on the stove or tend to use too high of a heat when cooking with oil. These often result in some tragic situations.
Our Recommendation
Any product like the Stove Ranger that is being utilized to increase one's safety has to be considered as a good thing. Rules for products like this are pretty stringent so it should have passed all of these before it could be brought to the open market. However, as we all know there have been some products that even though they passed inspection they did not perform as stated or had to be recalled. In the past we really haven't reviewed too much by the way of safety and security at least when it comes to fire safety and prevention. We have talked about other products that can be useful in a time of emergency like the Safeguard Deluxe.
What do you think? Does the Stove Ranger work or not?