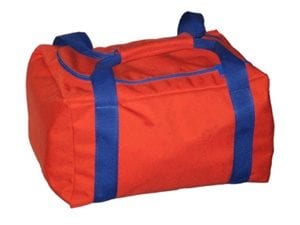 There is no doubt that we live in a precarious world and as a result of this more people are beginning to hone up their survival instincts. So is it time for you to start thinking about what you would need in the event of a disaster? If so then you may want to check out the Safeguard Deluxe 4 Person 72 Hour Emergency Kit.
Overview
Today more than ever before people are looking for ways to prepare themselves for an eventuality that nobody wants to face, which could be a survival situation. Whether it is a natural disaster that strikes unexpectedly or some form of terrorism, everyone needs to be prepared as disasters DO happen especially with the adverse weather we have seen in recent years with climate change. The Safeguard Deluxe 4 Person 72 Hour Emergency Kit is a realistic approach to a problem that can strike at any time.
The Claim
The claim by SafeGuard is that this Safeguard Deluxe 4 Person 72 Hour Emergency Kit will give you everything you need to survive for 72 hours for a 4 person family if things break down in the region where they live. Just this past week many thousands of residents of Oroville California were forced to evacuate their homes as a dam was set to fail in their community, now imagine if the Federal or local governments were unable to assist, this type of kit could mean the difference between survival and serious illness of injury.
The Hype
The hype surrounding most types of survival equipment is just that, hype. The reason is that most picture a worst case scenario and then give you very little in the way of real life necessities to help you cope. The Safeguard Deluxe 4 Person 72 Hour Emergency Kit gives you exactly what you need to stay reasonable safe during the 1st 72 hours of an emergency which is generally considered enough time for some help to mobilize.
The Cost
The cost of the SafeGuard 72 Hour Survival Kit is a very reasonable $299.00. When you consider the contents and the fact it can be safely stored for many years without degrading the price is very reasonable for what you get.
The Commitment
Other than your commitment to ensuring that your family is safe and can survive a catastrophic event for the crucial 1st 72 hours until help can get mobilized there is very little commitment required for the SafeGuard Kit. Nothing can go bad so the Safeguard Deluxe 4 Person 72 Hour Emergency Kit will literally be there when you need it for many years after purchase.
Evaluation
When you really take the time to consider the effects of a changing climate and the eroding levels of diplomacy across the world you start to get a true sense of the "can't happen to me" attitude starting to fade and more and more people are preparing for a worst case scenario. In most parts of the world that means natural disaster rather than war but you need to be prepared to survive no matter that the reason. The SafeGuard kit contains all you need for the 1st 72 hours and then some. Emergency Hi Calorie food bars and water purification tablets are the main component needed for true survival. The rest is designed to make you more comfortable and provide shelter if you are outdoors and facing the elements. You get the means to start fire and cook food and to stay warm and contact help if possible.
Final Safeguard Deluxe 4 Person 72 Hour Emergency Kit Review
The Safeguard Deluxe 4 Person 72 Hour Emergency Kit also contains a regulation 1st aid kit for any emergency wounds that may occur as well as a crank radio and flashlight combo to listen for instructions from authorities. Also included are some essential items for sanitation which the vast majority of "preppers" fail to consider. You may not need 5000 bullets for your 15 rifles and handguns but rest assured you WILL need toilet paper and this kit has it and more.
Our Recommendation
It does not make you paranoid to prepare for an event that may or may not happen. We wear seatbelts every day, not because we want to get in an accident but because we recognize that that MAY happen at some point. Having a kit like the Safeguard Deluxe 4 Person 72 Hour Emergency Kit does not make you crazy or a conspiracy theorist it makes you smart! Period. Protect yourself and your family and get this or one like it. The peace of mind you will get will make it pay for itself! If you are looking for more survival resources then this review may help.
What do you think? Does the Safeguard Deluxe 4 Person 72 Hour Emergency Kit work or not?