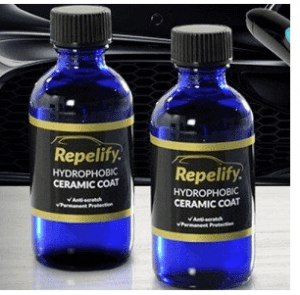 Purchasing a vehicle is a large investment for many. Maintaining the look and operation of a vehicle is important. Finding a product to protect the exterior finish on the vehicle can be difficult and expensive. Repelify is a great new product that can now be purchased by the public for the first time.
Overview
Repelify is a super hydrophobic technology, and nanoceramics made ceramic coating for the use on exterior finishes on vehicles for surface protection.
The Claim
The claim of Repelify is that it protects the vehicles coating from damage that can be done by bird droppings, bugs, sap and everyday dirt and grime, without damaging the surface and finish with its use. The application of this product sets in as little as 5 minutes and helps condition your cars to finish, lasting up to 5 years.
The Hype
The hype about Repelify is that once applied tough elements and dirt rinse right off. It is very easy and quick to apply and is a non-stick ceramic coating. Nothing sticks to the surface of your vehicle; everything simply rinses off eliminating the need for expensive car washes and time-consuming cleaning. Even spray paint on a vehicle treated with Repelify rinses right off.
The Cost
Repelify has a limited time, the special double offer of buy one, get one, plus The Hurricane Windshield Wizard, for only $19.99 plus shipping and handling and an additional fee of $19.99. The total purchase would amount to $39.98 plus $7.99 shipping and handling. The product comes with a 100% customer satisfaction guarantee. This product is not available in stores.
The Commitment
To ensure you attain the optimum results of using Repelify, application instructions should be followed. It is also recommended you rinse your vehicle when required. The product lasts approximately five years, so when approaching this period, you should re-apply Repelify to continue maintenance on the finish of your vehicle.
Evaluation
Repelify is a great product. However, reports on shipping times state shipping of the product can take between 3 to 6 weeks, leaving some customers unhappy with the wait time. Credit card charges on not applied until the item has been shipped, so that also can take between 3 to 6 weeks.
Final Repelify Review
We are going to give Repelify a thumbs up. Once this product has been successfully applied, it can significantly add to the longevity and great appearance and protection to give your vehicle that luxurious finish you would like to maintain. It eliminates the need to physically scrub sticky and difficult to remove substances from your vehicle. Purchasing and applying this product for friend or family seniors would make a great gift. We would recommend using this product as soon as you purchase a vehicle to enjoy the full benefits it has. It can protect your vehicles surface and eliminate the need to pay costly amounts to have your vehicle repainted etc.
Our Recommendation
For some alternatives you may want to check out CarShield.
What do you think? Does Repelify work or not?