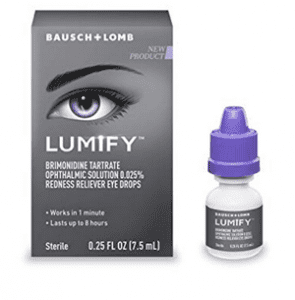 Many people experience red eyes caused by various reasons. Using Lumify Eye Drops can reduce or eliminate eye redness.
Overview
Lumify Eye Drops are made by Bausch and Lomb liquid eye drops used to reduce eye redness with a lower potential of side effects. The eye redness-reducing eye drops were developed by doctors and have been clinically proven to work reducing eye redness with minimal side effects.
The Claim
There are several claims about Lumify Eye Drops. This eye drops help to eliminate eye redness, which can be caused by allergies, swimming in chlorine, the use of
contact lenses, sun overexposure, eye fatigue, and dryness, to name a few. Lumify eye drops are the #1 Eye Doctor recommended eye drops for redness reliever.
The Hype
The hype about Lumify Eye Drops is that the eye drops start working in 1 minute and last up to 8 hours. Lumify is FDA approved and contains no dyes or bleaches. Using Lumify significantly reduces eye redness and create a whiter, brighter appearance to the eyes.
The Cost
The Cost of Lumify Eye Drops varies depending on which seller you choose to purchase from and size of bottle you choose. Lumify comes in 2 sizes, 0.08 fl.oz and 0.25 Fl.oz. The price can range from $18 to 40 dollars.
The Commitment
The first commitment to using Lumify Eye Drops as with any product you would put into your eyes is to read the directions and warnings of use very carefully to ensure this product is right for you. If you experience red eyes frequently due to allergies, dust, swimming in chlorine etc., using Lumify regularly would give you the optimum results you are looking for. It is very important to remove contact lenses before using the eye drops.
Evaluation
Bausch and Lomb have been in existence for years and are well known in the eye care business. Since the Lumify Eye Drops contain no dyes or bleach, they are extremely safe to use. The results that have been shown are outstanding, and the simple fact the eye redness can be reduced for a period up to 8 hours is amazing.
Final Lumify Eye Drops  Review
We are giving Lumify Eye Drops a thumbs up. This product has received a 4.2-star rating with 1,615 customer reviews. 69% of Lumify users gave a 5-star rating. One customer stated that she has had a chronic red eye problem for quite some time and has tried several other products, and using Lumify has been life changing for her; they work so well.We would strongly recommend Lumify Redness Reliever Eye Drops. Many customers have nothing but positive results with its use. The drops start working quickly and last up to 8 hours, resulting in less need to repeatedly re-apply. Lumify has a unique formulation that was never available before to purchase over the counter.
Our Recommendation
For those that are concerned about the areas under the eyes it might be worth looking at Eyesential.
What do you think? Does Lumify Eye Drops work or not?