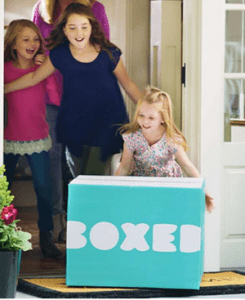 Some people enjoy the convenience of shopping from home. Not only can you order your food and toiletries online, but boxed.com will also deliver it free of charge, with your first order. However, many reviews on this site have a lot of unhappy customers.
Overview
Boxed.com is an online shopping site. Boxed.com delivers snacks, beverages, baby needs, office supplies, health and beauty supplies, pet supplies and several other items. Many of the items are sold in bulk, which adds to the savings.
The Claim
The claim of boxed.com is that their delivery time is within 1-3 days.
The Hype
The hype about boxed.com is the ability to order items in bulk and save money. Items can be ordered for personal use or open a business account.
The Cost
There is no membership cost to order on Boxed.com. The cost for the items ordered varies, and sometimes there are offers and promotions to save even more money if you purchase certain items and brands.
The Commitment
The commitment of using boxed.com for your bulk purchases, is the constant follow up that is required when items are not delivered when stated they would be. Another commitment is advising the company when an order is shipped damaged, or items are missing.
Evaluation
Boxed.com is a great bulk shopping concept; however, many people are concerned with the delivery times, quality of items, and condition the items are in when received. There are several other shopping sites that have a much better reputation than box.com.
Final Boxed.com Review
We are going to give Boxed.com a risky try/buy. There are so many negative reviews regarding problems and issues from unhappy customers. We would be very hesitant to order from this site. It does not seem to be very reliable, and their customer relations are less than acceptable. Many of the reviews have stated that the shipping time is a huge problem. Boxed.com promotes 1-3 day shipping, but it seems the shipping time is much longer and the shipping dates get changed and delayed very often. Other customers in their reviews are not impressed that there are items missing on a regular basis. The company does not seem to be reliable. One customer stated her box of goods was returned to the company due to shipping damage and they didn't even contact her, she felt like they were scamming her.
It would be far more advantageous, especially if you need items in a timely manner, to visit a bulk brick and mortar store and do your personal or business shopping in person. The benefits would include the fact that you get your items right away, you can look at the condition of the items before purchasing them, and if you are buying something for a special occasion as a gift, there is no possibility that the item will not arrive on time.
Our Recommendation
If you are thinking about looking at ordering boxed fresh foods then you may want to consider Farm Fresh.
What do you think? Does Boxed.com work or not?