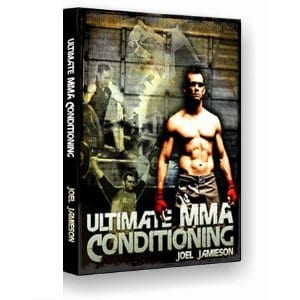 If you've ever wondered how MMA fighters get into such ridiculous shape, Ultimate MMA Conditioning might pull the curtain back for you. It's supposed to get your in fighting shape for your next match, or your first match. But can a program like this really help turn things around for you and get you to the level of some of the top fighters in the sport?
Overview
The reason a lot of those fighters look the way they do is because they treat it like a full time job. If they're not lifting weights in the gym, they're sparring or doing some sort of cardio to keep the fat off and keep their weight in a certain class. But behind all of that is a system that they follow, either from a coach, or a trainer, or a manager, or some combination of the three. If you don't have one of those yet, you may feel a little lost at times, and maybe have been taking advice wherever you can find it without any cohesiveness.
The Claim
Ultimate MMA Conditioning says that you'll be able to take your conditioning to a whole other level. They say that you'll be able to step up your pace in the ring or the cage and go from bell to bell without a problem. They go on to state that you'll be privy to some of the best training methods out there, and that you'll be training the same way that the pros do.
What this entails is coming up with your own 2 month strategy for getting ready for a fight. If you currently don't have one, or if the system you've been using has been letting you down, this is a way to try something different and shake up the status quo. After all, doing the same thing again and again but expecting different results is the definition of insanity.
The Hype
MMA fighting is at the height of its popularity right now, with more and more people becoming interested in Ultimate Fighting as a sport, and as a way to get fit. There are expensive classes you can take at your local gyms, so being able to develop your own workout at home sounds like a winner financially.
The Cost
Ultimate MMA Conditioning is $40 and comes with a two month guarantee, which coincidentally is the same amount of time it should take you to put the 8 week training course to the test.
The Commitment
Just like any fitness regimen out there you've got to put the time in. With this it's going to be especially true, since most MMA superstars are in the gym several hours a day. Whether you want to take it that far or if you're just looking at this as a way to get fit, you'll still want to dedicate yourself to seeing results, or it will just be a waste of time if you only dabble in it.
Evaluation
Ultimate MMA Conditioning is written by Joel Jamieson, and he name drops some of the fighters he said he's trained. It's always interesting when people make claims like this, since they must be true or the fighters that he's mentioning would file a complaint if they actually hadn't trained with him. So it's pretty impressive if he's got that much experience in training top performers.
This would definitely be a good buy if you feel like you've hit a plateau, of if you're just starting out and have no idea what you should be doing. It's a way to add structure to an otherwise structureless training routine. It can give you a framework for developing a workout that is right for you, and if you have been doing things the wrong way it can help you unlearn and get back on track to doing things the right way.
Final Ultimate MMA Conditioning Review
Ultimate MMA Conditioning is getting our Solid Try rating. This is something that you just can't pass up at this price point, and with their guarantee in place. If you learn just one or two tidbits that help get your training into the next gear, it's worth the price of admission. If you don't like it, you can take them up on their guarantee and get your money back. Either way, you're taking positive action towards accomplishing your goals, and good things start to happen when you start putting up and shutting up.
Our Recommendation
Developing your own system of training is the key here. You can try a one size fits all approach, but you'll usually find that it's missing something. That's extra something is you, it's missing the unique way that you like to train, and also the kind of fighter that you want to become. Tailoring your own program will help you stay motivated knowing that you're moving towards something that is just right for what your goals are.
What do you think? Does Ultimate MMA Conditioning work or not?