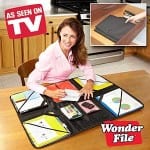 Organizing your papers and bills from time to time may be very tiring. It can also seem rather pointless because you know that eventually the arrangement will be ruined again. And for some people, this problem will cost them a lot of wasted time. They cannot just ignore it because it will be hard for them to work on a place that is very untidy. Because of this, Wonder File is out to help you with your "paper problems".
Overview
Wonder File attempts to help people in arranging the papers they need to save and retrieve from time to time. It is an organizer made up of polyester, and features a clear four-corner filing system. It can be folded up in such a perfect way that you are guaranteed that your papers will not be ruined. It is perfect to be used by everyone who wants their files to be organized, and all in one place. Even better, this organizer can be brought anywhere you want to go and it's very versatile.
The Hype
This amazing organizer can help people do some things they cannot do with an ordinary organizer such as writing on top of it. By using the Wonder File, you just can put anything you want into it, and soon you will have a nicer work place. In addition to that, this product is also very portable, and you can put it inside a drawer where you can easily find it and retrieve the things you want to use at a later time. And most of all, anyone can own and use it.
The reason why many people are convinced to buy this organizer is that they feel it will be very useful for them. It is suitable for just about everyone, for those who are very busy and do not have much time to arrange their papers and other things, those that live in fast paced cities, or moms who are very busy keeping their homes clean and running smoothly.
The Cost
If you are enticed by the promotion of this product, you can buy it online. This organizer costs $19.99 excluding the shipping fee. What's great about this offer is that they give you a buy one get one free offer. And with this, you get a chance to have two of these organizers with just a few clicks of your mouse. However, you also have to pay for additional shipping and handling fee for the free one. So this means that you get to spend a bit more money to have another one of these organizers.
Colors and Features
Before you finalize your purchase decision, you will be given the chance to choose what color you want. This product comes with three colors, black, red and plaid. When you receive the product, you will notice that the center pocket is quite large, which makes it suitable for a laptop. Aside from that, the other pockets are made with zippers so that the papers you put in them are secured inside. Lastly, the product is ready to use so you won't have much problem with it, right out of the box.
Evaluation
This organizer is a big help for many people, and has a thoughtful design. Wonder File makes your house clean and free from papers such as bills, statements, and other important documents. If you are a student you will find this product very convenient, especially when you are doing a thesis or you have to save some of your test papers.
Aside from that, you get to put your laptop in it so you do not have much problem in bringing another case for it. This also holds true for businessmen, professionals, and even hobbyists and craftsmen.
Final Wonder File Review
The reviews for the Wonder File show that most users are satisfied with its performance. It is something that is worth buying. It contributes to the better performance of its users since it makes the workplace cleaner and more organized. All in all, this product lessens the time it takes to store and retrieve the paper trail that life leaves behind.
Our Recommendation
Buy one of these organizers and make your home or workplace more conducive for getting things done in an efficient manner. Wonder File is worth your money, and you also get to have another one so you can store more papers or other things, or give to your friend or family member.
What do you think? Does the Wonder File work or not?