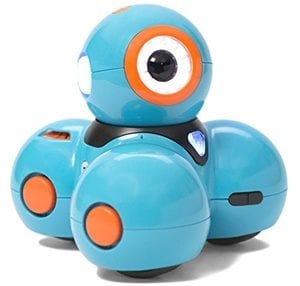 With toys being so expensive to buy and with the way that kids have advanced in electronic it can be a big challenge to find a gift that is going to be rewarding and one that will be put to good use. You may find the Wonder Workshop Dash Robot to be an excellent investment.
Overview
The Wonder Workshop Dash Robot is really a learning toy but one that is full of intrigue. It is most appropriate for ages six and up. The learning aspect of this Robot is through developing code to make it do different things, but the learning is really in a fun way.
The Claim
The promoters of Wonder Workshop Dash Robot say that the kids can put life into this robot through coding and various apps that they can easily download for free.
The Hype
The hype for the Wonder Workshop Dash Robot is that the kids get to develop this toy into what they want it to be. It can become their robotic pet or their best pal. There are tons of things that can create with this Robot.
The Cost
The cost of the Wonder Workshop Dash Robot is not cheap. It will cost you about $149.94. Keep in mind though that this is a high end toy that is loaded with plenty of learning opportunities that are applicable to what the kids of today are learning.
The Commitment
The commitment that you are going to have to make with the Wonder Workshop Dash Robot is that you need to give it to the kids to play with and not become so intrigued with it yourself. It really is quite amazing and as an adult it is quite easy to get caught up in the intrigue of it.
Evaluation
Overall we are impressed with what can be done with the Wonder Workshop Dash Robot. We were a bit concerned about the price. However, when you compare this to what some of the video games cost it is not all that more and yet has a lot more value to it. It is really easy for the kids to learn how to develop the robot as it has the built in apps that are tutorials. We couldn't ignore all of the awards that the Wonder Workshop Dash Robot has earned either. It has achieved the 2015 National Parenting Gold, along with the Time to Play Magazine 2015 Holiday Most Wanted list, along with a few others.
Final Wonder Workshop Dash Robot Review
We are going to give the Wonder Workshop Dash Robot a thumbs up. It is a refreshing change from the video games. It encourages the youngster to think through the coding without it being a task, but based on pure fun. It is applicable to what they are learning today. It is challenging but not over whelming. Out of 279 reviews it has received a 4.5 rating. This is very good for this type of toy.
Our Recommendation
If your young one is not quite ready for this type of learning toy then go for one that is sure to entertain them like the Bright Beats.
What do you think? Does Wonder Workshop Dash Robot work or not?
[kkstarratings_custom_footer]