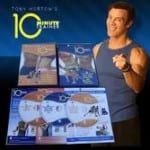 Can you really get a good workout that fast with 10 Minute Trainer? A majority of people sincerely want to workout and exercise but just don't have the time to do it. Most exercise systems involve a regmimen that calls for a number of steps to be carried through, otherwise the program will not work effectively.
With today's fast-paced style of living, not many people have extra time on their hands to devote to exercise routines. And if the system requires several hours of training, even the most dedicated can get tired of using the program again and again.
When a new system of training that only requires several minutes of work gets introduced to the market, it becomes particularly appealing. And that's what the 10 Minute Trainer is all about. Just by the name of the program, you can already tell that it won't take too much of your time.
Overview
Well-known exercise guru Tony Horton developed the system behind the 10 Minute Trainer workout. He developed a stacking system of exercising wherein different forms of exercises were combined to produce simultaneous effects to different parts of the body. What he developed is a time-saving technique, as you can finish an entire exercise routine in just ten minutes or so.
The Claim
Here's the famous quote and the 10 Minute Trainer official claim: "Give me 10 minutes – I'll give you results." That's exactly what developer Tony Horton claims, you can get a full body workout in just ten minutes. Being an expert in exercise routines, a program was developed where different techniques are combined in order to produce the perfect moves that will give effective results, in short order. You only need to spend 10 minutes everyday to follow the exercise routines on the DVD set, and Tony Horton guarantees satisfying results in just a short time.
The Hype
The 10 Minute Trainer routine is well advertised and the attractive package is really an attention-getter. Not too many programs can offer a package that promises a full body workout in just a few minutes. And Tony Horton has a good reputation too, so people will generally believe in his programs. So consumers who want to develop great abs and well sculpted bodies really took interest in this new system of exercising.
The Cost
Tony Horton's system of 10 Minute Trainer is presented in DVD format. You can get this home fitness program for about $80 if purchased on the internet through their main site. You can also find it for less because it's been around for a while and it's for sale on places like eBay. If you want a more hassle free way Amazon will ship it free for $90.
The Commitment
In order to make the 10 minute home fitness program to work, you need to follow all the guidelines and instructions on the DVD. Aside from the workout routines, easy-to-follow meal plans are also incorporated in the system to make it more effective. As long as you do the exercises at least once a day, you will eventually lose excess body fat and have a trimmed and toned look from head to toe.
Evaluation
The 10 Minute Trainer is really a good program and busy professionals as well as stay-at-home parents will benefit from this system. It is not time-consuming at all, as all it takes is ten minutes of your time and you can already have a full body workout even without leaving your home. The program also includes a healthy nutrition plan, so you will lose weight gradually and naturally. Because the routines are so short, many people report doing multiple sessions back to back, increasing its effectiveness.
Final Review of 10 Minute Trainer
Like almost any fitness program on the market it works if you work it. If you have the discipline and will power to do this every day, you will definitely see results. Surely, you have 10 minutes to spare each day, so you really have no excuse in skipping these exercise routines. In fact, if you have an extra 10 minutes, you can even do 2 sets in a day. 2 routines per day will give you improved results and it will not be harmful to your health in any way. You can even do 3 sets of 10-minute workout in a day if you want to, and you will achieve the maximum benefits of the system in a shorter time.
Our Recommendation
We are recommending the 10 Minute Trainer to anyone who's serious about having a fit, healthy, and well-sculpted body. This program only makes use of a series of exercise routines and healthy diet plans, and it doesn't involve the use of any drugs and supplementary medications. We only suggest that beginners should take on the exercises in this system slowly when just starting out, as some of the routines can be pretty intensive. Go at your own pace and make slow and steady progress.

What do you think? Does 10 Minute Trainer Work?