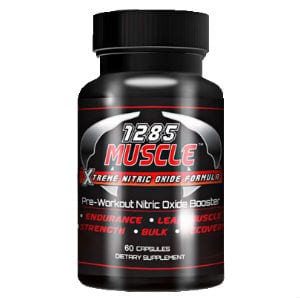 1285 Muscle is a nitric oxide supplement that promises many benefits if you start using it. But should you? We've analyzed the data, user feedback, and ingredients to give you the answer.
Overview
If you've ever reached a plateau in your training, you've likely looked for ways to give yourself a boost to push things to the next level. Perhaps you've tried protein powders and other supplements to try to help you push it harder and experience a new breakthrough, but with no luck. Nitric oxide has been around in the bodybuilding world for quite some time as a way to get bigger pumps in the gym as a supplement you take before a workout in order to maximize your time lifting.
The Claim
The claims for 1285 Muscle come fast and furious. They say it will help you build lean muscle, give you increases in strength so you can lift more at the gym, give you more endurance for sports and other activities, and help restructure your body. They also say you'll have an increase in your metabolism, that your body fat will be reduced, you'll recover twice as fast from workouts, be able to lift for longer periods of time, and be able to synthesize proteins more effectively. They top it off by saying you'll look more ripped, and have more mental focus and intensity.
The Hype
Since this is promising gains in muscle size and increased energy, it's going to have some hype to it. Energy levels are very hard to quantify, and what one person might deem higher amounts of energy, another may not notice the difference. Muscle increases are very subjective as well, and it can sometimes be hard to figure out which supplement is causing the biggest gains. Regardless, the thought of getting ripped is a powerful one for most guys, and it can override reason and logic when making a purchase decision.
The Cost
A one-month supply of 1285 Muscle is $96 which includes shipping. They have it set up so that you can try it out for two weeks before committing to a full month of it. They'll send you a 2 week supply for $6 in shipping costs, but you have to make up your mind pretty quickly on whether or not you like it. If you don't call in and cancel your next shipment you'll be charged on the 14th day after you placed your order and be a sent a full month's supply at the $96 price.
The Commitment
You'll definitely want to make sure that you get into the gym during your trial period to really put this to the test. This is one supplement that you can't just take it and expect it to work wonders. You have to put the time in, lift heavier weights, lift more reps than you currently do, and push yourself past your former limits. That's where the ripped look is going to come from: larger and leaner muscle coupled with a reduction in body fat percentage. Your diet and activity levels are going to play a big part in the results that you get.
Evaluation
The makers of 1285 Muscle claim that the reason it works is due to the makeup of ingredients. There are 6 active ingredients, all of them from natural sources, and include amino acids, antioxidants, and herbs. These ingredients have been used in bodybuilding and health supplements for years, and each one has had its own research done. We couldn't see anything listed at the official site in the way of research having been done on the product itself, but often these kinds of dietary supplements rely on social proof for evidence that it's working.
With so many synthetic supplements that promise to help you get ripped, it's nice to see one that focuses on using all natural ingredients with a focus on safety and no adverse side effects. While at first we thought this would mean having to settle for a product that doesn't provide the same sort of results as the chemically derived formulas, user feedback suggests that it works quite well and lives up to many of the promises it makes. Of course the results do vary across the board, but what we see is that the majority of users say they are happy with it.
Final 1285 Muscle Review
1285 Muscle is getting our Solid Try rating, because the initial feedback on it is trending positive, and because they have a trial offer in place that makes sense from a consumer standpoint. While the monthly cost may be a bit high, you don't have to pay it until you determine that it's working for you. If it provides even half of the promised benefits, you'd be happy to continue on, and if it falls short of your expectations you're only out shipping on the trial supply.
When it comes to supplements that are designed to help you in the area of building muscle, it's really about trying different strategies and seeing what works. If you've never tried nitric oxide supplements this may be a good place to start, and if you've tried others in the past this one might be able to outperform them, or at least not cause the same side effects.
Our Recommendation
While we couldn't find a reason not to take them up on the trial offer, if you know that you're no good with calling to cancel on offers such as these, you may want to just avoid the hassle and order a different nitric oxide product directly from another supplier.
What do you think? Does 1285 Muscle work or not?