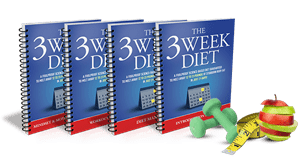 A lot of people are really focusing on getting in shape for summer and this may mean losing a few pounds. The challenge now becomes which is the best and quickest way to get this done. The 3 Week Diet may help you to reach your goals.
Overview
The foundation of this weight loss program is that you are supposed to be able to lose between 12 to 23 pounds within 21 days. If this holds true and you are looking for the quick method to get that weight off, then this is exactly what you have been looking for. Okay, now whats behind all this, that makes it successful in achieving this rapid weight loss where so many others have failed?
The Claim
As you just read the claim is that by sticking to this 3 Week Diet you should be able to lose between 12 to 23 pounds within 3 weeks. The website is claiming that this is a fool proof scientific based diet.
The Hype
Just the bold statement that you can lose this much weight in such a short period of time is hype enough. What is included in this claim is that it is guaranteed! The marketing material compares the results of the 3 Week Diet to what is normally accomplished in a 2 to 3 month period with most diets. They also point out all the additional benefits that come with this type of weight loss. Which of course includes better health and increased energy. They also point out it aids in the reduction of cellulite and promotes healthier skin and hair.
The Cost
This is an immediate download program that you are going to pay $47. for, but it also comes with a guarantee. This consists of, within 60 days if you are not happy with your results, or you are displeased with the product for any other reason, you will get your money back. Now what are you going to get for this investment? You are going to get the introduction manual, the diet manual, the workout manual and the mindset/motivational manual.
The Commitment
Just the title of the manual themselves should tell you what kind of commitment is expected of you. Obviously there is the introduction manual which should explain why this diet is going to work for you. This is going to build your confidence in knowing you have made the right choice so you will be motivated to follow through. Then it seems like there is going to be a diet involved here which makes sense. Plus, yes there is going to be exercise involved. You may have heard that exercise isn't necessary for weight loss, but you really need to question this. Some research has shown that some types of body fat will only respond to exercise. Then there is the motivation/mindset manual. This is important in any diet, because often people hit plateaus in their dieting efforts and that is where they give up.
Evaluation
The 3 Week Diet plan on the surface seems to have all the right ingredients of what experts say is necessary for weight loss. Now they do claim it is based on a scientific basis. So who is behind this wonder weight loss program? The author is Brian Flatt. He is recognized as a sports nutritionist, as well as a health coach and personal trainer. He holds a degree in biology so this may give credence to his scientific claims. However, there is not much data available to back up the scientific claim at least not on the general marketing materials.
Final the 3 Week Diet Review
We are going to give the 3 Week Diet a Thumbs Up rating. It has all the right mix for weight loss. It is produced by someone reputable within the industry. Even if you didn't lose as much as what is being claimed, if nothing has worked as yet for you, then this is a good start.
Our Recommendation
Any diet program that has any merit to it is going to require work and probably a change of eating habits on your part. It is reasonably priced and you have nothing to lose with the guarantee. It is suspected though to obtain these kinds of results that you are going to have to follow the program right down to the letter. As you may be aware, the Venus Factor has been pretty successful as well, which focuses on leptin and weight loss for women. The 3 Week Diet seems to be applicable to both genders.
Official Website: 3 Week Diet
What do you think? Does the 3 Week Diet work or not?