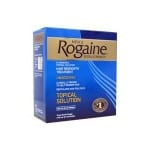 Capitalizing on the fear many men have of going bald, Rogaine came along as the hope they'd all been searching for. For those who haven't tried it, it's only natural to wonder if it will work, or if it's just another false promise.
Overview
Hair loss in men is big business. Since many men experience some level of hereditary hair loss at some stage in their life, they are ready to try just about anything that promises a return of their youthful locks. In 1988 they found out that a minoxidil had the interesting side effect of regrowing hair. That's all it took for them to start testing it out and releasing it as a hair loss solution.
The Claim
If you're a guy suffering from hair loss you've definitely noticed a Rogaine ad on television. One of the more convincing ads is of the twin brothers. One started using Rogaine and the other didn't. When placed next to each other it's easy to see that there's some improvement in the brother that didn't.
According to the manufacturers of Rogaine you can expect to see results after 4 months. There will always be an asterisk next to any of their claims because there are 15% of men that see no results at all.
The Hype
When Rogaine first hit the market it was quite a sensation. Until this time men didn't have many options when it came to losing their hair, so the market was primed and ready. Things have mellowed out a bit and now most men have either tried it, or have written it off as unsustainable.
The Cost
When Rogaine was only available by prescription it was considerably more expensive than it is not. You can purchase it over the counter and expect to pay between and depending on what strength and type you go with.
The Commitment
Using Rogaine takes a pretty strong commitment on your part. If you ever stop using it you'll lose whatever progress you've made, and your hair will return to it's natural shedding cycle. Currently this involves two applications each day.
Evaluation
There are a large number of hair loss products on the market that are not approved by the FDA, but Rogaine is not one of them. The Food and Drug Administration is charged with protecting consumers from fraudulant drugs and
Does Rogaine Really Work?
Rogaine is made by the big pharmaceutical companies and therefore has to pass rigorous testing on its effectiveness. They wouldn't be able to make the bold claim of preventing or stopping hair loss if they didn't have clinical proof that it works. If you've correctly diagnosed your hair loss as androgenic alopecia and not another form of hair loss such as alopecia areata or other causes.
How About Rogaine Foam?
Rogaine Foam is a type of Rogaine that is advertised as being easier to apply than the original formula. It uses the same formula, just in foam form and provides the same results as the original version. Because it's easier to apply, it should increase the effectiveness of daily use and the results could be even better than when using the liquid form.
Judging by the Rogaine website, they are pushing the foam pretty heavily and therefore one can assume that they are getting better feedback in the form of more repeat business from users.
Our Recommendation
The best recommendation is to come to terms with your hair loss. It can be a big blow to your self confidence if you used to a have a thick head of manly hair. It's all about your mindset. If you can't have the same level of self-esteem without a full head of hair then perhaps you could regain it with the help of Rogaine.
However, if you can learn to love the way you look regardless of how much hair you have on your head, then you won't have to be a slave to a major pharmaceutical company for the rest of your life. You can then invest the money you would have spent rubbing into the top of your head on other things like long-term investments or food.
Still unsure whether you want to try Rogaine out our not? Take a look at our comprehensive reviews of hair loss products.
What do you think? Does Rogaine really work?