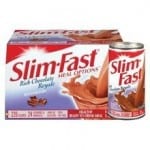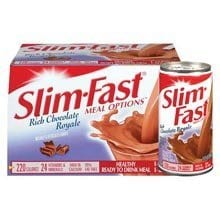 If you struggled with weight loss in the 90's you've probably wondered if Slim Fast actually works or not. This is no doubt from the heavy amount of television advertising that went on in that decade. Most likely the rational side of you knows that it's not sustainable, but the side desperate for results is hoping that it could work, and is convincing yourself that you could do it.
Overview
Slim Fast was created by the same company that used to market and sell Dexatrim, a dangerous weight loss pill that used to contain ephedra. It is no longer owned by the same company. Based on the premise of meal replacement with their line of shakes, it has evolved over the years to incorporate a broader variety of products, and includes other real foods in the plan.
The Claim
They used to claim that if you'd eat a sensible dinner after drinking a shake for breakfast and another for lunch that you'd lose weight. Now they've complicated things by adding snacks and bars to their original shakes in a "3-2-1" equation. They still recommend eating a smaller-sized dinner consisting of around 500 calories.
The Hype
Back in the 1980's when it was first released there was an intensive advertising campaign many people followed the program and of course probably saw some results in the short term. The beauty of selling a product like Slim Fast is that since it does produce visible results, but is not able to be followed for more than a month or to, users blame themselves and not the flawed product or system.
The Cost
Slim Fast may be attractive as a cost-cutting measure in these tough economic times. By replacing meals throughout the day with snacks that cost just a few dollars you can reduce your food budget considerably. Cost should not be a major factor in deciding on what's best for your body.
The Commitment
You have to be willing to substitute regular meals throughout the day with snacks, bars, and shakes. While this may seem like a good idea to you before starting the program, many people cannot maintain this eating regimen for long periods of time. There is no exit strategy. There's no clear way to come off of the program and return to a normal intake of food.
Evaluation
Besides being unrealistic the other big problem with taking Slim Fast is that it's big business, and therefore it's all synthetically made and full of stuff you probably don't need. Instead of bombarding your system with more manmade chemicals and synthetic vitamins, try using whole food supplements and switching more of the foods you eat to organic. It may not be as cheap but if you're serious about your health it is far better for your long-term results.
Does Slim Fast Really Work?
Slim Fast is a form of calorie reduction, and therefore technically it works. To lose weight you need to either reduce the number of calories you intake, or increase the number of calories you burn per day. Much has been written on diets that reduce calories.
The consensus is that sooner or later the person on the diet will crash, and when they do they will regain all of the weight lost and then some. This is called yo-yo dieting and can be even more unhealthy than being overweight.
Our Recommendation
Slim Fast is not a sensible eating system for the long term. Any time you are trying to lose weight it's going to require a change in your lifestyle. Changing your lifestyle to eating snacks and shakes throughout the day is not something that most of us would want to do every day for the rest of our lives.
You don't have to take drastic measures in order to lose weight. You most likely did not gain all of your weight in a short time, so even though you may feel an urgent need to lose it, it's best to take a relaxed approach. Start making simple changes in your eating habits and get more exercise. Make it things you know you can keep up with for the long haul, and watch your results accumulate over time.
it's all about feeling good, and trying to sustain yourself with 100-calorie snack bars filled with things like fructose and sucralose is a losing equation. It's a recipe for being miserable and this will only lead to failure and further engrain improper eating habits.
What do you think? Does Slim Fast really work?