If your pet's breath is a problem you may have been enticed by the commercials for Plaque Blast (now known as Plaque Attack). In them they show owners easily spraying a mist of solution into their willful pet's mouth. It looks easy enough, and if you believe everything that's stated then you're just a phone call away from being Owner of the Year.
Overview
Taking your dog or cat to the dental vet for a cleaning can get pricey. This is the premise of Plaque Blast and other products boasting the same benefits. While it may be true that veterinarians charge an arm and a leg to clean your pet's teeth, this doesn't mean the answer lies in a $20 bottle of alcohol-free spray.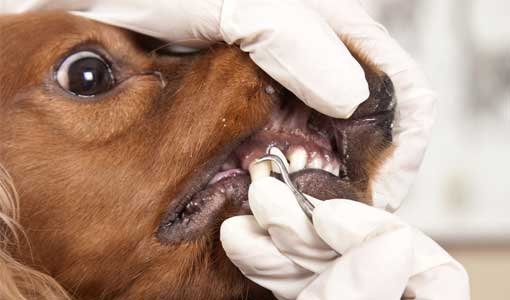 The Claim
By spraying Plaque Blast into your pet's mouth you'll avoid the need to go to the vet dentist as much for plaque cleanings. They do not come right out and say this, but in their video they compare and contrast the use of their product to taking your pet in for a scaling.
They use scare tactics in the form of dramatizing the pain that your pet will have to endure while they are having a tooth cleaning. You shouldn't let it get to you, or let it prevent you from taking them in for scrapings. The long-term effects of not taking them in will be far worse than the short-term pain they'll feel getting a cleaning.
More fear tactics come later, as they demonize the bacteria that live in your animal's mouth and state that if left unchecked it could lead to further complications in their intestines and organs. They cleverly avoid stating that their product helps reduce the likelihood of this threat.
The Hype
The hype comes in the form of the Utopian world presented in the television commercials. In these ads pets site comfortably while their owners spritz the spray into their mouths. There's also plenty of computer animation showing how tartar and plaque buildup vanishes with a few sprays from the bottle.
There's only one accurate depiction of how the product would be used in real life, and that's when their paid vet tries to spray the spray into a dog's mouth. The dog is fidgeting and having no part of it and a big cloud of errant spray goes wafting all over the dog's body.
The Cost
Plaque Blast is advertised at $10 for two bottles plus shipping and handling of $6.99. You can also get a "free" Crazy Critter for an extra $6.99. From what we can deduce they do not autoship and autobill you every 30 days like many of the as seen on TV products that are moderately priced.
The Commitment
From the videos it appears that you'll just have to spray a few quick blasts into your pet's mouth and let them go on their way. You only have to do this several times per day to get started and then once per day as you go along to maintain the desired results.
Evaluation
The best way to find out what's best for your pet is to ask the vet the next time you go in for a check up. Let them know that your pet has bad breath and you are concerned about their oral health. Your vet will be able to make an assessment and let you know what you can do between cleanings.
Does Plaque Blast Really Work?
Plaque Blast may help to reduce the smell of your dog or cat's breath, but it should not be used as an alternative to dental cleanings. If used as a breath freshener it may or may not be worth the price tag.
Our Recommendation
It's best to take your pet to the vet on a regular basis to get excess plaque removed professionally. In between visits you can use what your vet recommends, whether it be special treats for them that breaks up the plaque, or a different form of Plaque Blast that you know you can trust.
Do not use Plaque Blast as an alternative to proper dental cleanings for your pet. They may experience a little discomfort, and may need some anesthesia to calm them down and make it easier for the veterinarian to work on them, but that's just part of being a dog or a cat. They'll get over it.
An easy alternative to Plaque Blast are the C.E.T. Enzymatic Oral Hygiene Chews. They're cheaper, and are clinically proven to reduce plaque and bacteria, making your dogs breath smell fresher.
What do you think? Does Plaque Blast really work?