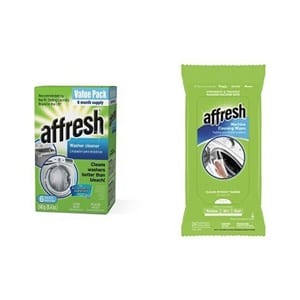 Usually when we are buying cleaning products we like to focus on the all purpose ones. However, buying ones that are designed for a specific purpose can sometimes do a much better job. Affresh has a line of cleaning products that are geared to intended uses and a lot of them for cleaning the inside of our appliances which we sometimes tend to forget about.
Overview
Affresh is a company that offers two main selections of products. One selection cleans the inside of many of your major appliances like your stove, dishwasher,and washing machines for example. The other selection goes to work on cleaning the outside. This makes sense as the internal workings of these appliances may demand stronger cleaning components then the exteriors.
The Claim
The company makes specific claims for each of the products they are offering. For example, the washing machine cleaner is claimed to be able to remove the odors that build up washers better than bleach. Then they also have wipes for cleaning the exterior of the machine.
The Hype
The hype really comes down to the Affresh products being specific at what they are able to do. They have not generalized their ingredients that are used in the products but have targeted them to do a specific job.
The Cost
Depending on which product you are going to buy and where you are going to buy it from dictates the price. The Affresh product for cleaning the inside of your washer and a package of the wipes together sells for about $15.78. This gives you 6 of the washing machine tablets for the interior cleaning and 24 wipes for the exterior.
The Commitment
Using the Affresh products doesn't take any more of a commitment than cleaning in any other way would. Perhaps the job may be easier because in some cases there would be less scrubbing. All you have to do is remember to use the Affresh products when you are going through a intense cleaning regime. You probably don't need to use the interior cleaning products on a weekly basis, as most don't do this type of cleaning that often.
Evaluation
We were curious as to whether a lot of people liked the idea of specific targeted cleaning products like the Affresh products would really be that popular. We found some of them listed on Amazon and were pleased to see the very positive feedback that at least some of them were getting. For the clothes washer interior cleaning Affresh products it has received 2,320 reviews which awarded the product a 4.4 star rating. Then we took a look at the Affresh products for the dishwasher. It too seems to have impressed a lot of people, and is a best seller on Amazon.
Final Affresh Products Review
In general we are going to give the Affresh products a Thumbs Up. No doubt some will work better than others and results may vary according to the specific circumstances. What we like about these types of products is that you may not have to use them on a regular basis but in between your light cleaning of some of your appliances. This of course is going to depend on how often the specific appliance gets used.
Our Recommendation
With many of our appliances costing a substantial amount of money like our washing machine and dishwasher for example, it is well worth taking a little extra cleaning care with them.If you are interested in checking out some other selections of these type of products be sure to see our reviews.
What do you think? Does Affresh Products work or not?