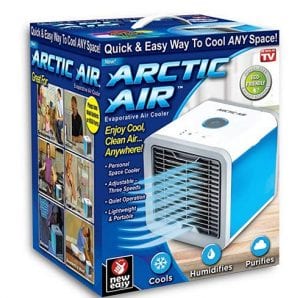 Trying to stay cool on a hot day it's not always that easy. Especially if you're not fortunate enough to have air conditioning. Even if you have a number of fans that will oscillate and help to move the air around.  Your fans are moving around hot air, there is little to no relief. One product that has helped many individuals to deal with the heat. Is a product called the Arctic air portable air conditioner
What Is The Arctic Air Portable Air Conditioner?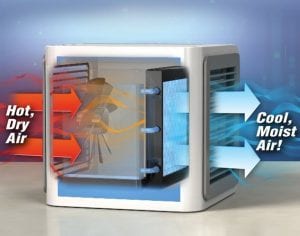 The Arctic Air conditioner is a great product for keeping you cool in those hot days. This product works on the theory of turning water into evaporation. Once you pour water into the cooler the unit will then suck in the dry humid air in your house and turn it into cool crisp purified air. This unit is capable of cooling off an area up to 45 square feet area. With two speed fan with an emphasis on being ecofriendly and whisper quiet.
What Can This Portable Air Conditioner Do?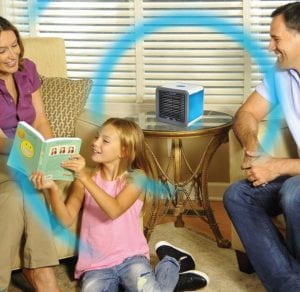 The portable air conditioner will act as an air purifier and humidifier all in one. Like your typical home with central air the Arctic Air conditioner will suck in the dry and hot air in your home. Then turn that into cool air to circulate around your home to keep you cool and relaxed on those hot days. Other AC systems use a lot of power to try and cool an entire house or building. Which can run your electricity bill higher and higher. Which leaves you with a startling bill at the end of the month. This personal space air conditioner actually cools the air around you, where you need it the most. While using a fraction of the size and power consumption of a small household fan.
 Best Features of the Arctic Air
The arctic air portable air conditioner is cable of cooling off a 45 sq. area
It runs on 350 Watts of power.
The unit is better than any fan you can buy and will last up to eight hours on a single charge.
With the unit being so compact you can put this virtually anywhere in your house, apartment, and office or bring it up to your trailer for the summer.
Light weight and portable and very user-friendly. This makes for a handy go to for hot days when you need to cool off.
Feedback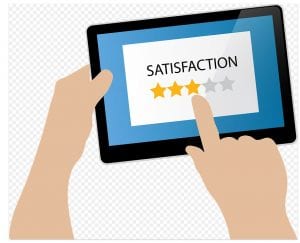 A person may think that with all the great features that this product is promoting that it would be up in at least the four-star category. However, according to the Amazon ratings it isn't. Based on 2,229 reviews it has only received a 2.7 out of five-star rating. 41% have just given it a one-star rating.
In spite of this, the Arctic Air is considered to be the number one seller on Amazon when it comes to Evaporative coolers.
One user gave a possible explanation as to why so many are only giving it a one-star rating:
He says:
"The people that 1 star this do not understand evaporative cooling. They are expecting a little AC unit that blows cold air. That's not what this is. It's a big improvement over a regular fan. The water in the filter evaporates and cools the air several degrees depending on the weather. If there is a lot of humidity, not much water is going to evaporate, thus not much cooling. With dry air, more water can evaporate and you can get some impressive cooling."
The negative complaints seem to focus on the quality of the product itself.
One user says:
"This product worked fine for the 4 times I used it in my classroom at the end of the school year. I went to use it in mud August when I returned only to find the filter was moldy and the UBC port broke for the plug in…"
Another unhappy customer said:
"Bought two of these. One didn't hold the water. It just spilled all over my desk. The other won't stop blinking yellow even though I've filled it up and that's supposed to make it stop…"
Where To Purchase The Arctic Air Portable Air Conditioner?
Walmart
Home Depot
Rona
Amazon
Canadian Tire
Included Components
Arctic air tm
Replaceable evaporator cooler
USB wall adaptor and cord
Easy instruction guide
About the Ontel Company

When a product is being hyped up and it doesn't live up to its expectations then it means taking a closer look at the company that is providing it. In this case, it is Ontel. This is a company the promotes a large number of the "As Seen on TV" products. This can account for the quality of the Arctic Air being one of the factors as to why this product is receiving a bad rap. Again though it is important to look at the price of $21.99 which is the average price of what this product is selling for. It comes down to a prospective buyer lowering their expectations and understanding what the capabilities of the product really is. Even though the hype may say otherwise.
Evaluation
Based on the feedback this product does not seem to be the best choice. However, the company did come out with another version called the Ultra Arctic Air. It doesn't seem to be getting the positive reviews that may be expected for an improved version.
Options
If you are truly set on finding a portable air conditioner that is capable of delivering on your expectations then you need to be prepared to pay far more than what you would be paying for Arctic Air. With this type of product you are coming down to getting what you pay for.