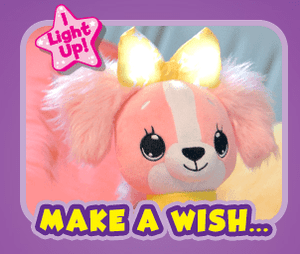 There are always news toys coming out on the market for kids. The kids become aware of them most often through the ads that they see on Television. One of the latest ones that may have caught their attention is Wish Me Puppy.
Overview
The theme of Wish Me Puppy is a cute cuddly adorable puppy. It is an interactive toy that has four touch points which is really what appeals to the kids. Some of these are these Wish Me puppies will giggle when touched in just the right spot. Then they also have the ability to light up.
The Claim
The promoters of Wish Me are indicating that this is going to be the latest snuggle toy that is going to capture the hearts of the little ones. It is being claimed that the Wish Me puppies are made of high quality plush material. They are comprised of LED lights which add to the longevity of this toy. There is an automatic shut off and it is said to be the perfect partner for play or bedtime.
The Hype
The hype for the Wish Me Puppy is really how cute and brightly coloured they are. There is a selection of six colors which are purple,orange,grey,pink,blue and black. They all come with super bright bows that light up at just the right time.
The Cost
The cost for a Wish Me Puppy is $19.99 plus shipping and handling.
The Commitment
The Wish Me Puppy is all about getting the little ones to use their imagination and make a wish that they will hope their Wish Me puppy will grant. The concept is that the little one gives their Wish Me puppy a kiss on the nose and when doing so makes a wish. Then as they are giving their kiss the Wish Me Puppy bow will glow. After the kiss and wish is made then just blowing a kiss to the Wish Me Puppy will turn the light out.
Evaluation
The Wish Me Puppy goes beyond just being a cuddle me toy. It teaches children to be loving and kind and delights them when their kisses turns on the bow lights. Of course the giggles that the Wish Me Puppy is able to give doesn't go unnoticed either.
Final Wish Me Puppy Review
We are prepared to give the Wish Me Puppy a thumbs up. They are reasonably priced and the little ones can tote their new friend with them wherever they go. Not only can they interact with their Wish Me Puppy but they can snuggle up with it when they are ready for a nap. By the way if you would prefer a unicorn then you can get the Wish Me Unicorn.
Our Recommendation
If you are looking for a plush toy and want an alternative then check out Pop Out Pets.
What do you think? Does Wish Me Puppy work or not?