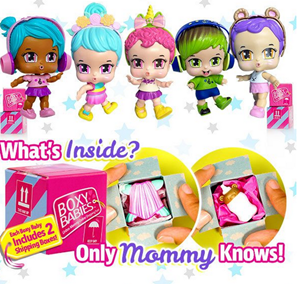 Whether it's for a special occasion or simply to provide your kids with a new toy to play with, finding the right trend can be challenging. Boxy Babies may well be the latest trend.
Overview
Boxy Babies is a hot new item of collectible dolls, pets, and clothing.
The Claim
The claim to the Boxy Babies is that they will provide hours of entertainment for your kids.
The Hype
The hype about Boxy Babies is that your child can collect many different dolls for hours of fun.
The Cost
The cost of the Boxy Babies is only $19.99, plus shipping and handling. The offer includes 1 Boxy Babies collectible doll, a second collectible doll and two additional boxes containing clothing and accessories, plus a free Boxy pet. These items come with a 30-day money-back guarantee.
The Commitment
The commitment to the Boxy Babies is sharing this new toy idea with family and friends.
Evaluation
Boxy Babies looks like it will be a hit with the kids. Many other like products have taken off. The ability to collect different ones gives the kids something to look forward to. These cute little dolls have interchangeable shoes and clothing. This allows your children to use their creativity by mixing and matching outfits and shoes. Each doll comes with its own name, and there are female and male dolls. These dolls are also posable. Each doll comes fully boxed, and the identity of the doll is not revealed until the box is opened. If you have duplicated, it makes it fun to share and trade with family members and friends. Upon checkout, other Boxy Babies merchandise is available for purchase. There are new extra soft Boxy Babies and even limited edition triplets. How fun is that! The bright colors and cute little faces make these little gems very attractive. They are constructed of quality materials and are washable. These babies can also make extra bathtime fun. Try using miniature furniture with them and playing house.
Final Boxy Babies Review
We are going to give Boxy Babies a thumbs up. As with many other small collectables, they will provide hours of fun and creative activity. They are the perfect size to take anywhere. They can provide entertainment for your children when going out for dinner. Many families that go out for dinner are always looking for something to occupy their kids while waiting for food to arrive. According to TV Stuff Reviews and votes, 73% of customers have stated that these tiny plastic dolls are worth buying.We would recommend Boxy Babies as a cute addition to any child's toy collection. Perhaps adding a treasure chest to house these cute little one and a half inch dolls will create that special feeling of ownership for the children. The children can keep the names of the dolls that come with them, or choose special names of their own.
Our Recommendation
If you are looking for something else that the kids may enjoy then check out Wish Me Puppy.
What do you think? Does Boxy Babies work or not?