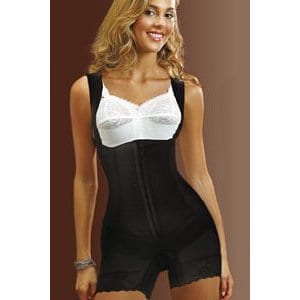 If you've been wanting to get a slimmer look without waiting for the results, you might have considered a body shaper like the Ardyss Body Magic. This is designed to help compress and hold up all of the areas that women get concerned about. Not only is it supposed to boost up your bosom, but it's designed to slim the waist and lift up the buttocks. But does this contraption actually feel comfortable when you're wearing it?
Overview
Body shapers are getting more and more popular as baby boomers continue to age, and things start sagging when they didn't used to. Perhaps there's even a few more pounds where there once weren't. Several companies have sprouted up, all promising a better looking body in minutes, and helping you look as good as you can, without making any lifestyle changes. So how does the Ardyss Body Magic stack up to other competing products at this price point?
The Claim
Ardyss says that their Body Magic takes care of some of the most common problems women have with their bodies. They say that it will help you firm your abdomen, and also holds your lower abdomen in the right position. They say it can help you with your posture, since it puts your shoulders back where they're supposed to be. At the same time, they say it supports the upper and lower portions of your back, and also puts your back into alignment.
But it doesn't stop there because the Body Magic extends to your lower body, slimming down your hips and lifting your butt to a better location. This seems like a lot for just one piece to accomplish, as most body shaping items target either the lower body or the upper body, and some are even designed to help with just one particular body part. It's unique to see a product try to correct almost the entire body.
The Hype
The hype is that it's just a cosmetic fix, and you're not really changing anything. It's important to not get in the mindset that you can just let yourself go because the Body Magic will just help you hold it all in. It can be a good aid in getting you some nice compliments on your way to actually fixing the trouble spots with proper diet and exercise, but just don't rely on it to make you look great no matter what.
The Cost
The Ardyss Body Magic is $80, which when you consider that it's a whole body solution is pretty on par with it's competition. For example, Spanx has a full body system that is around $100, so in this regard Ardyss is winning the price war.
The Commitment
All that's required is putting on this body shaper, as the results should be seen immediately. These items are meant to reduce your amount of effort in looking good, and now you won't have to wait months and months to see the sort of results from going to the gym or eating right. Of course you can still do both of those, and wear your Body Magic, because it will only make the results more and more pronounced.
Evaluation
The Body Magic by Ardyss gets plenty of good reviews from actual buyers. They have a wide assortment of different products, and each seems to be reviewed favorably. With something as personal as a body shaper, it's hard to get a lot of feedback, because most people don't want to admit using it if it works, they just want to take the credit. To get a favorably reviewed product in this category is nothing short of amazing.
It's also important to keep in mind that until you put it on and get it all in place, you won't know how well it works for you and your body. We each have our own areas that we're not especially proud of, so you'll just have to give it a try and see how well it makes your body look, and whether you think it's worth keeping or not.
Final Ardyss Body Magic Review
The Body Magic is getting our Green Check review, as we feel it is a solid, well-reviewed item that actually delivers the results you'd want from a body shaper. The only complaints it received were from the ordering process, and after those issues were resolved the customers were pleased with the quality of the items.
Our Recommendation
If you're in the market for a body shaper, you should consider the Ardyss Body Magic if you are looking for an overall solution. If just one area of your body is giving you grief, you should consider going with Spanx or Trendy Top, as these offer more localized solutions. However, the Body Magic is a one-stop solution that covers the major areas that most women get fed up with.
What do you think? Does Ardyss Body Magic work or not?