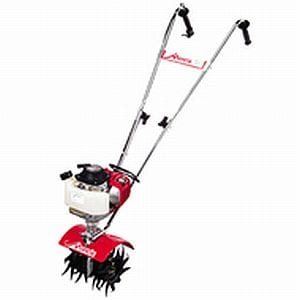 The Mantis Tiller has been around for some time now, and hasn't changed its form much. It says it's America's favorite garden tiller, and who can argue, since there aren't many other top-sellers vying for the title. The concept is pretty basic, this is just a tool for tilling the soil, getting it ready for a healthy garden, and the execution seems to be there. But is this something that will really save you time and effort outside?
Overview
When you consider your different options when it comes to getting your garden ready, you can either till by hand, or use an automated device like this one. You're looking at a lot of hard work, especially if your soil is not very yielding. You'll have one heck of a time trying to break it all up the old fashioned way with a manual tiller, and you'll never get the thorough job done that you can do in mere minutes with something like the Mantis Tiller.
The Claim
The Mantis Tiller says it starts up easily thanks to the engine by Honda. It also says you don't have to mix the fuel in order to use it, which sets it apart from a lot of other tillers out there. They say that it is lightweight, even though it's meant to be indestructible and take a beating. They claim that it gets down into the soil a full 10 inches, making it great for just about all of your gardening needs.
One thing that they like to point out is that it doesn't matter what kind of surface you're dealing with, it can cut through all types, even really hard sod, compacted dirt, and also clay. They add that it's easy to store, and has plenty of different attachments you can stick onto it to make it even more versatile.
The Hype
The hype is that this is something that you don't need to do on a regular basis for your garden, so you need to make the determination on whether it's worth investing in or not. If you're only going to use it a few times a year, is it worth it, or can you get by without it. With the right attachments they say you can use it year round, so it's really just a matter of deciding how much you want to use it.
The Cost
Their deluxe model goes for $400, and they have sizes and prices depending on your yard and garden size. They also have an electric model that goes for $350 which is more of a green option over using a gas powered model. If you want to go big you can get their 16″ model and you're looking at $600. One good thing is that they will let you try it out for an entire year so you can put it through it's paces and if you don't like it you don't have to keep it.
The Commitment
Compared to trying to till your garden without it, the Mantis Tiller makes a pretty strong case with its convenience factor. Once you get past the learning curve of how to use it, it's very effective at what it does, and you'll be pretty impressed with how quickly you can get the task done. Forget spending hours in the sun fighting with the earth, when you can get it all broken up and aerated more quickly than you ever thought possible.
Evaluation
This is a well-built piece of machinery, and get almost unanimous positive reviews from those that bought it and love it. They are also good with customer service, and with teaching you how to use it properly. They'll even help you repair it if something should go wrong. You never know what you'll uncover below the soil, so accidents can happen and tines can break off, needing to be replaced. They've got it all covered, and offer replacements for almost every part on the machine.
It's nice doing business with a company like this, because they've been around for the last 30 years and they show signs of being around for the next 30 years. They offer a price that is very fair for a product that is put together properly. It actually feels like the way things used to be, when companies made real products from quality materials and expected customers to use those products until they fell apart from use, not broke the first few times.
Final Mantis Tiller Review
We're giving the Mantis Tiller a green light review based on all of the positive peer reviews, the long track record of quality customer service and products, and the fact that it just hands down works as an indispensable garden tool for the serious gardener. Compared to other automatic tillers out there at this price point, you can't beat the Mantis Tiller for ease of use, reliability, and effectiveness.
Our Recommendation
If you just have a small garden in the suburb, you'll probably get by with one of their smaller models, or you can decide that you don't really need one at all. But if you have a good-sized garden, or want to expand your operations, you should definitely look into getting one of these to make the whole process a lot more enjoyable and fun. Gardening should be a fun activity, not a back-breaking chore, and this helps keep it fun and gets you back into the right mindset.
>> Click Here to Visit the Official Mantis Tiller Website <<
What do you think? Does Mantis Tiller work or not?