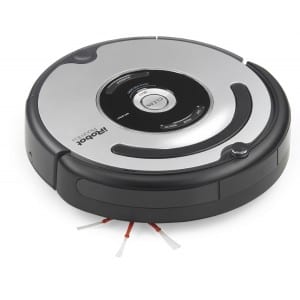 The iRobot Roomba 560 is one of those self-cleaning vacuums with an added attachment that allows it to do thick carpets as well as hardwood floors, without needing to be picked up and moved from surface to surface. It still has all of the functionality that you'd come to expect from an iRobot vacuum cleaner, but with the enhancements that you need if your house has these typical obstacles.
Overview
If you've seen our iRobot review, you'll know that we gave the entire product line a generally positive review, and recommended getting them. But taking things down to the model level is the next logical step, and if you're considering adding this to your home-cleaning arsenal, we'll help you make the right choice. iRobot vacuums are basically in a class by themselves. You don't see any other company making a legitimate effort at a self-cleaning vacuum, basically something ripped out of the Jetsons cartoon.
The Claim
The claim of the iRobot Roomba 560 specifically is that it has a bagless dustbin that is easy to empty, that it won't fall down stairs, and that it powerful enough to pick up the dirt and debris from around your home. This is one of few cordless vacuum cleaner systems, so it not only needs power to move around the room, but it needs the sucking power to pick things up effectively. They say that they've figured out its power needs and it comes with a charging base that it sits in between uses.
The Hype
The hype is that this is a very futuristic vacuum, and some people still can't believe that it gets all of the spots on your floor, because it seems to be operating pretty randomly. But if you watch time lapse footage you'll see that it knows where it's been and where it hasn't and it won't stop until it gets the entire surface area of your floor.
The Cost
At $400 this is no light matter to consider, and you'd better be sure you're getting a vacuum that not only works by itself, but also works in picking up all of the dirt, dust, hair, and other debris that makes it to the ground and in the carpet.
The Commitment
This is where the Roomba vacuums make their strongest case. They truly are set and forget style, and all you have to do is empty their compartment when they get full. The Roomba 560 has a digital setting where you can schedule it to vacuum at specific days and times. You could set it up to vacuum while you're at work, and come home to nice clean floors without lifting a finger. The convenience factor is through the roof on this one.
Evaluation
All you need to do is see the Roomba 560 in action to know that it works, and works well. Once you see it go from a thick shag carpet to a hardwood floor without missing a beat, you'll know that it's something special. Once you see the way it actually detects dirt, and gets it all picked up, you'll be hooked. One problem we thought it would have is getting up against corners and edges, since it's round in shape. But they've got the technology built right into it so it can get up against walls with no problem, and it even knows when it's up against a wall.
If your home as a staircase, or even a few steps, you might worry that you can't use your Roomba 560 on the 2nd floor or around the steps, but not to worry because it can detect if it's on the edge and it won't go so far over as to tumble, it just puts the breaks on and backs itself away from the cliff. It might be a little unnerving to realize you have such a smart vacuum in your house, and when the robot apocalypse happens, your Roomba 560 should be your first suspect.
The novelty of having a robot clean your floors is definitely worth the extra price. It's one less thing you'll have to do, and you can spend the time doing things you enjoy more than vacuuming, or getting other work done so you can be more productive. Either way, it pays for itself in no time.
Final iRobot Roomba 560 Review
We like what we see with the Roomba 560 and are giving it a Thumbs Up review. The price is a little high, and if you don't mind doing some of the work, you might want to consider a Dyson at this price point. However there aren't any other viable options if you want to be able to just push a few buttons and have someone, or some thing do your vacuuming for you. The only other option is to buy a standard vacuum and then hire a housekeeper to run it for you, but that will quickly add up to more than the cost of a Roomba.
Our Recommendation
The Roomba 560 is a good model to go with if you have a lot of uneven surfaces in your home, including area rugs, hardwood floors, and linoleum. It's got little feelers that spring out so that it knows what it's on and it knows how to switch modes between surfaces. This makes it perfect at getting the whole house done, and not just being confined to the living room, bedrooms, and other carpeted areas.

What do you think? Does iRobot Roomba 560 work or not?