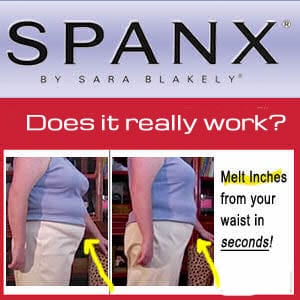 Spanx is a line of undergarments that are designed to give you a more slender look and shape your body. They do this with an assortment of products including bras, panties, leg wear, swimsuits, and body shapers. This is just one of sevearl different companies that have gained in popularity in recent years with products designed to compress and smooth out problem areas. But do their products really work at creating a sleeker-looking you?
Overview
Sara Blakely, the owner of Spanx, is one of the few female billionaires on the planet, the youngest self-made one, and it's all from the success of this one company that she started. She must be doing something right, and people must really like the products they're getting, or the company wouldn't have been able to grow as big as they have. The company was started 10 years ago, so this is quite an impressive feat for a relatively young company.
The Claim
Spanx makes several claims across their different products, but the general gist of it is that these garments will make you look slimmer, give you a better shape, and be comfortable to wear.
The Hype
The hype comes from the fact that Spanx says its items are why celebrities look so slim. It's easy to make claims like this because how are you going to prove them right or wrong. Of course Hollywood does involves a lot of plastic surgery and other aesthetic fixes, so it's not stretch of the imagination that actors, actresses, and models keep everything in place with something like a body shaper.
The Cost
The cost of most Spanx items is a little higher than other body shapers on the market. For example, the Slim Cognito Shape-Suit is around $100, and the Open-Bust Camisole is over $50. Apparently the quality must be really high, in order for people to pay this much for undergarments, and not return them.
She also has an ASSETS line that promises the same high quality and comfortable items but at a price that is more affordable than the Spanx line.
The Commitment
You simply have to commit to wearing your chosen Spanx product whenever you want to get its slimming effects. They promise that it's comfortable to wear, so once you put it on you shouldn't notice much of a difference, and after an hour or so you probably won't even notice you're wearing it any more.
Evaluation
The feedback from Spanx products is very positive, and of course there are some people they didn't like them. For some, it's just not their cup of tea, and they won't find any body shaper that they like. For others, it's just what they were looking for, and it worked exactly like it said it would to provide a better overall look when you wear clothes over it. Perhaps some people thought that it would make them look like the models showcasing the product, but it's going for the effect of being worn under your clothes, and not meant to make you look exceptionally better wearing just the Spanx item.
They've also got Spanx for men, which features undershirts and underwear, all designed to keep things looking trim and fit, if you've got a few inches to shave off, or if you just want to look your best without trying so hard. This is a hard sell for guys who typically head to the gym when they want to look better, and would rather lose the weight than put on a shirt that makes it appear that way.
Problem Areas
Many of us have that part of the body that is the cause of a lot of self-contempt. Whether it be flabby arms, or fat thighs, love handles, the muffin top look, or rolls where there shouldn't be rolls, it's pretty easy to pick a part of the body that needs a little assistance. Since you can't spot train these areas in the gym and have to rely on overall fat loss, it can take several months to start seeing results. Something like Spanx can fill in this gap, keeping you motivated until such time that you don't need to wear it any more.
Final Spanx Review
Spanx is getting our Thumbs Up review based on customer loyalty, favorable feedback from buyers, stellar customer service in the case of making an exchange, and generally a good approach to doing business. There are a lot of options when it comes to getting products like these, and many of them are at a lower price point. The initial temptation is to go with the cheaper item, but if you think about it, you might end up having to buy several of them in the time it takes to wear out your Spanx item. You have to weigh quality craftsmanship against the cost to come up with an item's true value.
Our Recommendation
Choose the Spanx item that appeals to you most and give it a try. If you don't like it you can always return it according to their return guidelines, and if you do like it you'll probably end up buying another pieces, or several other pieces. They break it up by body part so it's easy to pinpoint a problem area that you're most concerned about and try out one of those items to see how well it works.

What do you think? Does Spanx work or not?