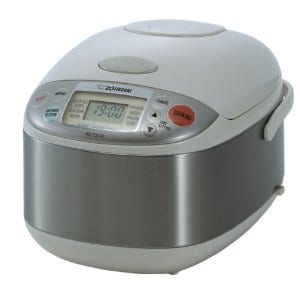 The Zojirushi Rice Cooker is for those households that like rice, but don't like the idea of making it. Cooking rice to perfection can be a real pain, and at the very least can take up a lot of your time. The basic concept behind a rice cooker is that you just have to add the rice and some water and the machine does the heavy lifting.
Overview
Americans don't really eat a lot of rice, but for many people in other countries, it's a stable. Rice cookers have been very popular in Asian nations for decades, and are now finding some popularity in America as Asian infused dishes are becoming more popular. Even something as simple as a stir fry just goes better with a side of rice. It's also great to have as a bed for things like curries. There are so many different uses for rice, you'll wonder how you lived without something like the The Zojirushi Rice Cooker all this time.
The Claim
The Zojirushi Rice Cooker claims that it can make perfect rice, every time, with the touch of a button. They also say that they can make the rice come out in different styles, whether you just want to eat it plain, or if you're using it for sushi, or if you are using brown rice, or plan to make your rice into a porridge. This seems like a pretty big feat for a self-contained unit, but it's all in the temperature and time, so it's not beyond the realm of possibilities that one machine could be so versatile. That would be a big load off of the mind for you in the kitchen, since you wouldn't have to worry if the rice is getting over or under cooked, you could just set it and forget it.
The Cost
Zojirushi Rice Cooker can be had for less than $300 and they have different models, some around the $200 price point. This may seem a bit expensive, but it should last you for several years, and several hundred meals. When you compare it against cooking rice on your own, or buying a less expensive model that isn't as highly reviewed, and probably gives mixed results, it's not too hard to justify the expenditure.
The Commitment
This is where the unit sells itself, basically reducing your commitment level down as far as it can go. You simply measure out the rice, measure out the water, push the button for the type of rice you want, and walk away. The machine will let you know when it's finished, and your rice should come out in top form, with the precision and nonresistance that only a robot can stick too.
Evaluation
The reviews are in on the Zojirushi Rice Cooker and they're exceedingly positive. This is one of the best reviewed items we've ever seen, and a staggering 80% of the people give it a 5 star review. Ninety percent of people give it a 4 star review or higher. So it's proven itself to be a crowd please. People have even described it as being something from the future, due to it's high-tech Japanese styling, and one touch functionality.
The Zojirushi Rice Cooker is not cheap, but what else would you expect from a piece of sophisticated machinery? It seems silly to put so much technology behind something as simple seeming as cooking rice, but tell that to Japanese, Korean, or Chinese people who eat rice at almost every single meal. For them this is serious business, as rice isn't just a side dish, but is actually the main dish sometimes, with a bunch of side items being eaten along with it. Therefore, having a lousy batch of rice basically ruins the meal.
Final Zojirushi Rice Cooker Review
The Zojirushi Rice Cooker is getting our Thumbs Up review, because we like how well it actually works. If you like rice, you know it has to be done just right in order for it to be scrumptious. If you'd like to eat more rice, but don't know how to cook it, or always get it wrong when you do, this would be a great addition to your kitchen. You can then try your hand at things like sushi, or make fried rice, because the hardest part will be handled for you. And with the settings it features, you can time your rice to be done right when you're finishing up the rest of dinner.
Our Recommendation
At this price, you'd better convince yourself that you'll make enough rice to justify the purchase. If your family already eats a lot of rice, you're probably not even reading this far down on this page and are off buying it as we speak. We recommend it if you think you'll use it, as nearly everyone that used it says it works – and works well.

What do you think? Does the Zojirushi Rice Cooker work or not?