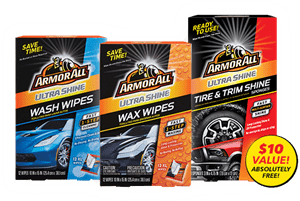 Keeping up with cleaning your car can be a big task and expensive one if you have this professionally done. There may be a way that makes it much easier, the results more long lasting, and more affordable in the long run. This is if you are using the Armor All Wipes.
Overview
There are a collection of Armor All Wipes that you can use for car cleaning needs. These are comprised of the Armor All Wash Wipes, Wax Wipes and the Armor All Tire and Trim Shine. So basically everything you need to clean your car, shine it, and tend to the appearance of the tires and trim as well can be done with the Armor All Wipes.
The Claim
Armor All claims that the Armor All Wash wipes eliminate the need and hassle of using buckets of soapy water, followed by rinse water. They claim their Armor All wipes for washing your car are large and pre-soaked and capable of removing all types of soil and grime. The Armor wipes for waxing the car which are the Armor Wax Wipes only require one application. Then finally when it comes to the wheels the Armor All wipes to look after this job is the Armor All Tire and Trim Shine. These are in the form of a sponge which makes them easy to work with.
The Hype
The hype really focuses around all the products you need for a good car cleaning come in three easy forms that are simple to use. No muss no fuss is really the tag line for the Armor All Wipes. Not having to make a bunch of purchases of a variety of products could be a cost saver. Then not needing a bunch of equipment means you can clean your vehicle no matter where you are.
The Cost
Your cost is going to be $19.95 plus $7.95 shipping and handling. For this you are going to get a 12 pack of the wash wipes, a 12 pack of the wax wipes and a 8 pack of the Tire and Trim sponges. So you are getting a complete set of the Armor All Wipes needed for a total car cleaning.
The Commitment
The commitment is going to come from you being determined to dedicate the time to your car cleaning with the entire Armor All Wipes process. Although you don't have to do all three steps at once. If you just want to clean your car and not wax it, or clean the tires, then the choice is yours. No matter what you decide chances are this process with the Armor All Wipes is going to save you a lot of time.
Evaluation
Really you have to admit that the premise behind this simple Armor All Wipes is really a good idea. These three products all come under the Ultra Shine category so as such they haven't got a lot of feedback as yet. Armor All in general has a pretty good name attached to its brand.
Final Armor All Wipes Review
We are going to give the Armor All Wipes a Thumbs up but we are not really sure how economical this is going to be. There are going to be a lot of variants that come into play. For example, how big your vehicle is and how dirty it is is going to determine how many wipes you need to use.
Our Recommendation
If you look at the premise that it's going to take you the entire packages of the Armor All Wipes to totally clean your car then you are looking at a cost of roughly $28. You need to determine if this is too costly. You need to compare it to the costs of the other types of products you would need to buy to gain the same results. To start the interior segment of our cleaning this car vac might be of value to you.
What do you think? Does Armor All Wipes work or not?