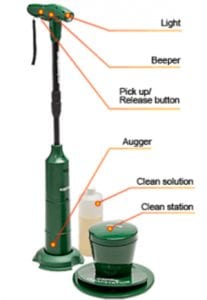 Most dog owners will not hesitate to buy the best of products for their pooch if it is going to enhance their life in some way, but will these same dog owners pay a substantial price for a product that is going to make life as a dog owner more convenient? Lets find out if the Auggie Dog is a product worth paying for.
Overview
This is a product that makes poop and scoop a whole lot easier to handle for the dog owner. Having dogs is a wonderful experience, but having to clean up after their more than once a day bowel movements is not. This product is designed to make light work of this messy task. No more bending down, or having to carry a bag of poop along with you on those pleasant dog walks.
The Claim
The company focuses on all the unpleasant tasks of cleaning up after your dog. They claim there is no more bending over, no need to use bags that you end up carrying with you on your journey, and that the auger within the unit helps to trap the debris quickly and easily. They also claim that the Auggie Dog is easy to use when discarding the feces and the holding cup cleans easily as well.
The Hype
While there are lots of benefits outlined in the marketing material of the Auggie Dog the promo video really zeros in on the embarrassment that comes with the normal way of poop and scoop. Nobody enjoys being in a crowded park with their canine friend and having to clean up a doggie mess in full view. They also focus on some added benefits that the product offers like the attached night light which helps to light the way for night walks and makes cleaning up the late night poop a little easier to see. It also has a beeper for dog training as well.
The Cost
While we have outlined a lot of great potential benefits of this product are they worth the price of $149.99? This is what you will pay for the Auggie Dog. It does come with a full year mfg. warranty and you get a bottle of cleaner.
The Commitment
Using the Auggie Dog is not going to reduce the commitment you have to make for cleaning up after your dog, but instead of grabbing the bags on your way out the door with your pooch you are going to have to grab this device. It is true that it is inconvenient and embarassing to have to carry a bag of poop along with you so you can dispose of it when you get home. However, even with the Auggie Dog you are still going to be carrying these messy lumps along with you, but they are at least concealed. Then instead of just throwing a bag of poop in the trash, you are going to have to expel the contents of the Auggie Dog instead, and then clean it with the solution that came with your purchase.
Evaluation
We are well aware of how passionate dog owners are about their canine friends. We also know that they are big responsibility and can make extra work for their owners. Previously we reviewed a product that helped to cut down on cleaning up the feeding mess which was the Neater Feeder. This was a product that was well received, so we figured that poop was a whole lot messier, and anything that could make this job easier would be one that would grab most dog owners interest. This proved to be true when we checked out less sophisticated pooper scoopers on Amazon, and particularly one that was more in line with being automatic which was the Pooch Power Shovel.. Unfortunately this one did not live up to its promises and is getting very poor reviews.
Final Auggie Dog Review
We are giving this product a solid Try/Buy rating. It has a lot of great benefits that really do serve the dog owner well, but it still means that you have some cleaning of the holding pot to do, which means you are still dealing with the poop. In respect to the costs of special poop bags it is going to save you some money there, plus not having to throw plastic bags into the garbage is a good environmental move. One important aspect that we also liked about it was that it really is ideal for cleaning up the backyard of accumulated poop especially if you have more than one dog. This is where we believe this product really shines.
Our Recommendation
If you have just one dog and you don't mind cleaning up after him or her once or twice a day then you may not find this product worth the investment, and the added chore of having to clean it. If you have a larger dog, or more than one then you may find this product has real value, and especially when it comes to cleaning up the backyard messes.
What do you think? Does Auggie Dog work or not?