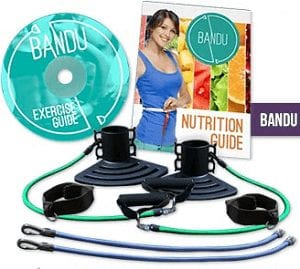 If you are thinking about getting into shape but want something that you can work with in your own home to help you, then you may be interested in Bandu.
Overview
Bandu is a device that lets you take an ordinary chair and turn into a fitness gym. So you can provide good workouts for the various areas of your body. Basically all you have to do is slip the Bandu onto the chair legs then clip on the bands.
The Claim
According to the promoters of Bandu, with this unit you can take a simple chair and turn it into your very own home gym.They say that with this unit you can create smooth resistance and promote muscle burning while burning calories.
The Hype
Time is always the big factor for many people when it comes to losing weight or getting in shape. According to the promoters of Bandu all it should take is about 8 minutes a day using their device to start seeing some results.
The Cost
For the Bandu unit you are going to pay $19.95 plus $7.99 shipping and handling.
The Commitment
The Company indicates that there are over 50 different exercises that you can use with the Bandu. This means that perhaps you are going to first want to learn what these are so you know what the benefits are going to be for each of them. Then around this you can plan a fitness regime that is going to target the areas of your body that you feel needs some work.
Evaluation
We have spent a fair amount of time on reviewing various types of home exercise equipment that range both in price and capabilities. We like to try and find ones that are compact or portable as well as affordable. Yet at the same time will live up to their expectations. Some that we have talked about do this, while others don't. In the past we talked about an exercise offering called Rubberbanditz. The concept of this is very similar to the Bandu.Rubberbanditz focused on the quality of their bands being durable. They also were intent on offering good instructions for the use of bands for resistance exercise. Where the big difference takes place between Rubberbanditz and Bandu is the pricing. Rubberbanditz focuses on charging specific prices for the different sized bands. Bandu includes a whole system which includes Bandu cups,bands,advanced strength bands,workout DVD, and a nutrition guide with recipes.
Final Bandu Review
We are going to give the Bandu a Thumbs Up rating even though it appears to be a new product to hit the market without much feedback as yet. Our research regarding band fitness exercising shows it seems to be popular, and a lot of people like the results that they get from it. We feel that perhaps Bandu would be a great starter program for this type of exercise. Once you mastered the bands that come with the unit you can always scale up to heavier bands that you can buy individually to be used outside of the Bandu unit.
Our Recommendation
If you are just starting into exercise, it is always a good idea to start slow and work your way up in duration and intensity.
What do you think? Does Bandu work or not?