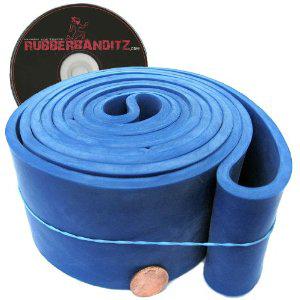 Rubberbanditz is attempting to take resistance bands to a whole new level. They not only say that their bands provide a gym-in-a-bag, they also say that you can get a full body workout with their customizable programs. It's not every day you come across an up-and-coming company that is trying to make an old school product better than ever. So let's see how well they're doing.
Overview
Resistance bands have been around for some time now, but many of them are made from cheap materials, and can break or come apart in the middle of a lift, snapping at you and causing injury if you were relying on them to support your body weight. Plus, many of the bands out there do not come with much instruction, and you're lucky to get a wall chart or a chintzy DVD program which only shows you a few possible exercises. Needless to say, there was a lot of room for improvement.
The Claim
The makers behind Rubberbanditz point to a lot of the benefits there are to using resistance bands over some of your other options. They say that since they're lighter than free weights they are a bit safer, you don't have to worry about dropping them on yourself. They also say that they are more accessible to a broader range of users, and that they're a smart choice financially, beating the cost of a gym membership and being cheaper than buying a rack full of weights.
Another benefit they claim is that you can easily maneuver the resistance bands during the workout, so you're in control of how much resistance you're getting, and able to give yourself a more precise workout. The end result is that you get an effective workout that builds up your lean muscle, which leads to a decrease in the amount of body fat you have.
Resistance Bands, Really?
It's hard to build hype for a product as common as resistance bands. Most people think of them as an alternative to free-weights and gym machines. By building awareness of all the different ways you can use them, they are attempting to show that these deserve a second or third look. Some of the workouts they've devised are rather clever, and can help you hit muscles that are hard to get to using conventional methods.
The Cost
The price of Rubberbanditz range from $7 to $130 based on how long the band is, and how much resistance it provides. You'll want to carefully choose which length and resistance level you want to go with. For around $100 you could get an assortment of levels and be able to quickly change them out during a workout, depending on which muscle group you're on.
The Commitment
You've got to make the commitment to learning how to perform all of the different exercises that you can do with these. It may feel awkward at first, especially if you're not used to lifting weights, or if you've always used free-weights before. But once you get used to the way the different motions feel, and realize that your muscles are indeed getting a good workout, you should get hooked and want to use them more and more. Getting over that first bit of awkwardness is crucial.
Evaluation
Although Rubberbanditz seem like a rather simple concept, and resemble resistance bands that you may have used in the past, upon close inspection it becomes clear that these are the way resistance bands should have been all along. You won't have to worry about them breaking on you, and with all of the video training that's provided, you won't be stuck for ways to use them. They also fit nicely into CrossFit training, as well as at home fitness programs like P90X2 or Insanity.
You've got 60 days to return your bands if you're not happy with them. That's a generous amount of time to put them through their paces and see if training with resistance bands is right for you. If you don't like it, you can send them back for a refund no questions asked. Plus, if they should break at any time within the first year, you can return them for a replacement. The thing is they should never break, so you probably won't be taking them up on that offer, but it's nice to know it's there.
Final Rubberbanditz Review
The Rubberbanditz company is doing a lot of things right, and we're giving their bands a Thumbs Up review. It's not just the bands they're getting right, it's the video training and support that they provide that makes this a clear choice. It's a way to get your body fit no matter where you are, and no matter what level you're starting from. They have light bands for those that are just starting out, or are disabled in some way, and they have the strongest bands imaginable for those that want to give it all they've got, and never thought they could with a band.
Our Recommendation
If you've never tried using resistance bands, you owe it to yourself to give it a go. It's a great workout for the frequent traveler, or for those rainy or snowy days when you don't feel like going to the gym. Some people even use it as their only means of working out. Once you try it you'll determine for yourself where it fits in to your overall strategy for health and fitness.
What do you think? Does Rubberbanditz work or not?