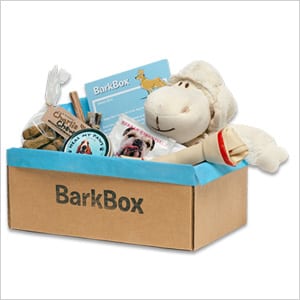 BarkBox is a service that will send you a new box of dog goodies each month. It's a monthly subscription box service that is designed to take the guesswork out of doggy product buying. But how does it measure up?
Overview
If you've ever stared at the wall of dog treats at the pet shop and wondered which ones to buy, this could be a way to have an assortment of them presented to you each month without having to choose.
The Claim
The folks behind BarkBox claim that it doesn't matter what size dog you have, they'll be able to cater to them and send you items each month that are chosen in order to improve your dog's experience and well-being. These items can range from toys and treats to products that will help clean your dog and keep them smelling and looking great.
The Hype
We all know that dog lovers are nuts about their dogs, and are really passionate about providing a great life for them. It's not uncommon for companies to play on this strong desire and present a product or service with that goal in mind.
The Cost
They say you can get started on BarkBox for as low as $19 a month, but that involves the longest time frame of 6 months. The nice thing is that it doesn't matter what size dog you have, the price is the same among all breeds and sizes. If you go for a shorter time the price is higher and it's $29 a month to try it out.
The Commitment
They say that there's no commitment and that you can cancel at any time. Since you're not the one choosing what your dog receives each month, you don't have the responsibility of having to sort through a bunch of products and pick them out. Some might prefer being able to select items, while others will enjoy the thought of someone else doing the thinking and picking out quality products that dogs would like.
Evaluation
Overall, BarkBox seems to be giving a valid effort at choosing things that are specific to a dog's size, and getting inside the mind of both dogs and dog owners to pick an assortment of products that are both fun for dogs and good for them at the same time. They have to appease the owners of course, since they're the ones making the purchase decision, and in order to do that they have to pick items that dogs will respond well to.
The real question here is whether this is a good expenditure of your $19 to $29 each month. First, you should try to calculate how much you currently spend on dog items each month, and then figure out the sort of bang for your buck you're getting. If you find that you have a good history of picking out dog treats and dog products that your dog enjoys and that helps them stay clean and healthy, you might not need a service like this. But if you often forget to give your dog goodies, or have a knack for picking duds, this might be a helpful way to correct both problems.
Dog owners can be some of the most discriminating consumers because they want the best for their dogs and accept nothing less. They have a knack for picking apart products and really scrutinize whether or not something is good for their pet. That being said, the feedback on the items sent by BarkBox is relatively good. Obviously they are trying to choose products that would appeal to the broadest number of pet owners, so they have to take a sort of middle ground when choosing products, so if you're totally about giving your dog organic or all natural goodies they might miss the mark, but if you're more mainstream about what you give them you'll have a better chance of liking what you get.
Another big factor at play here is the 10% of proceeds they say goes to help with dog rescues. This is actually being donated to a shelter and you can let them know if you have a particular shelter you want them to consider. It's a nice bonus to going with their service, but isn't something that would make or break your decision to try it out or stay with it.
Final BarkBox Review
Overall, BarkBox is getting our Solid Try rating. Since you can cancel if you don't like it, it's fun to try out the grab bag experience and see if it lines up with the types of things you like to give your dog or need for them. The chances are high that you won't get a box of dog junk each month, which is the number one concern when going with a program like this. The next is that it won't be a good value for the dollar, which our research shows is not the case. We've determined that it's definitely worth a trial run, since you can sign on for longer if you like and get up to a $10 discount each month, or simply not order it again if they don't impress you with their selection.
Our Recommendation
There are a few aspects at play here. If you really love to give new things to your dog, and don't want to have to remember to pick them up new things on the regular, this is a service that is set and forget. Sure, there may be months when you don't really like what you get, and there may be months when everything you receive is a winner. You run the same risk when going to the store and trying new toys and treats. Try this for a month and see if it's something you want to go with long-term.
What do you think? Does BarkBox work or not?