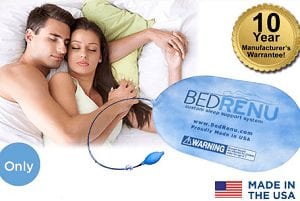 Are you one of those individuals who are in real need of a new mattress, but you just don't want to have to put the money out for one right now? Then maybe your won't have to, if you buy Bed Renu instead.
Overview
Bed Renu is a device that is inserted under your mattress and is suppose to allow you to turn your mattress into a support bed. You simply pump it up and it takes out all those dents and mattress wrinkles that are the culprit for giving you a bad night's sleep.
The Claim
The company claims with their product you can lift, support and customize your mattress exactly to your liking. You can lift your head or your legs. Just like those fancy beds with all those electronic controls, except the Bed Renu is a much easier and less expensive process to achieve what they are indicating would be the same results.
The Hype
It doesn't take much to convince the individual who isn't getting a good night's sleep that there are solutions to this. The problem is the better quality a mattress is, the more money it costs. The other problem is even when you purchase one of these sure to please mattresses it just might not be all that perfect for your sleep requirements. The Bed Renu is offering a easy solution to this, where you can turn your old or new mattress into a sleep haven.
The Cost
Okay this sounds like a dream come true, and you are expecting a hefty price albeit lower than a top quality mattress that boasts of sheer comfort. Here is where the shock comes in. The price of Bed Renu is only $19.95 plus $7.99 delivery. Yep, that's it. So let's find out how this could possibly be true.
The Commitment
You aren't going to have the luxury of a push button control to inflate your Bed Renu. You are going to have to use some manual labor here and pump it up with the attached hand pump. Plus you are going to have to position the Bed Renu exactly where you want it to be for its lift capabilities, i.e. under your feet or your head.
Evaluation
The marketing material showing the before and after pics of the wrinkled mattress is quite interesting when you look at the actual size of the Bed Renu device itself.
Final Bed Renu Review
We are going to give the Bed Renu a thumbs up rating based on its promo videos. The first demo in the video shows it being placed under a good sized mattress, but the second demo shows a much thinner version. Had the first demo not been present then we would have had some concerns. However, the promoters say it can hold up to 700 pounds so that is plenty of support. If you are only looking at the Bed Renu for giving you a raised position for your feet or head, then you can save money by using a pillow to do this. The problem with this is that the pillows end up flattening out, or more often than not end up on the floor.
Our Recommendation
There is no doubt that many people spend an absolute fortune on the very best in mattresses or beds that come with all kinds of bells and whistles. If something as simple as Bed Renu for the low price it is being offered at then wow! what a bargain. We have talked about quality mattresses before like the Simmons Beauty Rest, so now you really have something to compare this was is known as top of the line mattress to as an alternative.
What do you think? Does Bed Renu work or not?