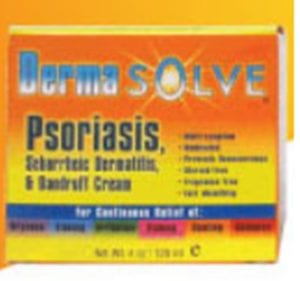 A lot of people suffer with skin problems like Psoriasis,Seborrheic Dermatitis, Scalp Psoriasis, and Dandruff. To make the problem worse, is trying to find something to treat these conditions. DermaSolve may be the answer
Overview
DermaSolve is a product that can be used to treat Psoriasis,Seborrheic Dermatitis, and dry skin. The product contains 1.8% of salicylic acid. This allows for gentle exfoliation of the skin where the dead cells have built up which is as a result of many of these skin type conditions.
The Claim
The company clams that DermaSolve contains in excess of 70 different types of minerals,vitamins and proteins that all come from the "egg". This combination of ingredients is supposed to heal the area being treated, and restore it back to its normal healthy state. The Company does make it clear that for Psoriasis, it is a treatment and not a cure, but can help to encourage healing.
The Hype
It doesn't take much hype to encourage those who are suffering with these types of skin conditions to try a new product that is claiming excellent results. The promo material provides ample examples of before and after the use of DermaSolve. There is a large display of the magazines that DermaSolve has been seen in. However, the magazines are not linked so it is unclear how the product appears in them, whether it has been featured or as a paid ad.
The Cost
There are several types of kits that you can order as there are a variety of products. There is the All In One kit, that includes the cream, shampoo, body wash,scalp oil, and dead sea milk bath for $84.95. There are additional kits with different assortments of the products. However if you just wish to buy the DermaSolve cream you can easily do that as well. One jar costs $24.95 but if you buy additional jars then you get a better discount
The Commitment
While there are several products being offered by this Company we are focusing on the DermaSolve cream. You will need to follow the instructions carefully as to its use. Be sure to follow through with the application as they say, in order to get some results. The label suggests using it 4 times a day or as directed by your Doctor.
Evaluation
Overall the product seems to have a lot of excellent components to it. It has been widely reviewed and received a lot of media coverage. It is important to remember however, that everyone is different just as the various skin conditions are. This means that the results may vary.
Final DermaSolve Review
We are going to give DermaSolve a Thumbs Up Rating. The cream has some excellent ingredients in it, and it addresses many of the symptoms that comes with Psoriasis and the other conditions that it is used for. It also has some great features about it such as being fragrance free, and non greasy
Our Recommendation
Whenever you are using a product such as this for a skin condition, it is highly important that you first get a positive diagnosis as to exactly what your skin condition is first. Then advise your Doctor that you are going to be using DermaSolve or whatever product you are going to use so you can follow his advice and he is aware of what you are doing. We know that these skin conditions are a real source of irritation for many, and in the past have reviewed other products to help with some of them like Quick Relief. which has been getting some good reviews, but is a different approach.
Official Website: DermaSolve
What do you think? Does DermaSolve work or not?