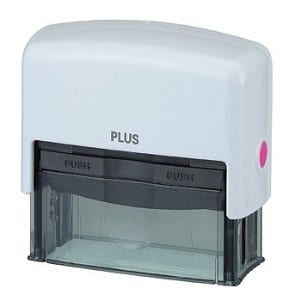 The Black Out Stamp says that it can help you keep your private information more private by blacking out printed text so people can't see what it says. In an age where identity theft is on the rise, it is important to have a healthy respect for the problem and try to do your best to minimize the chances of becoming a victim. One of the most common strategies is to shred any documents that contain things like your Social Security number, any account numbers, bank balances, or any other identifying information. But is this really a better alternative?
Overview
Blacking out information that you don't want people to know about is a valid way to go, and is even used by top agencies like the White House, the FBI, and the CIA. However, they go line by line with a permanent marker and make sure that it is completely blacked out. When you go with a stamp like this, you have to make sure that it is providing enough ink so that it gets soaked up the paper, so that people can't hold it up to the light and see what you're trying to hide.
The Claim
Black Out Stamp says that the special ink contains will hide your sensitive, and confidential information. They also say that it will protect your information from being seen from both sides, so it doesn't matter how a person tries to see your information, even if they hold it up to a light they shouldn't be able to see through it. They claim that the ink is permanent, and can't be erased or washed off.
They also say that it uses a jumbled stamp pattern, so you can't read text through it. They say that this is easier than shredding, and you'll be able to use it more quickly than having to sit and shred items one by one. It also claims that it is better than using a regular permanent marker and scribbling out your information.
It also comes with a pen that they say uses permanent ink so that once you write a check, or sign a document, the information can't be changed.
The Cost
The Black Out Stamp is $27 through their main sales page, which results in you receiving two stamps and to pens. You can get it for $5 at Amazon if you're still optimistic.
The Commitment
Even though they say that this is faster than shredding, if it doesn't work as depicted, it's not going to be faster. Technically yes, a quick stamp would be faster than sitting and waiting for your shredder to thread through all of your paperwork, but from our testing it doesn't seem to get the job done, so it's back to the shredder for us.
Evaluation
The Black Out Stamp would more aptly be named the Gray Out Stamp because it doesn't actually black out anything, and you can still see what it says underneath the stamp mark. Even repeatedly stamping the same spot over and over just makes it a darker shade of gray, and you never get that CIA-quality black out that's really necessary here you want your information to be secure.
Leave it Online
Of course, the most secure way to keep your information safe is not to receive it in paper form at all. Call your bank and see if they can stop sending you paper statements, as well as your credit card companies. Most businesses out there have a vested interest in putting all of it online so they don't have the added cost of mailing you printed statements. This is an effective way not to leave a paper trail of sensitive information, and stays on their secure website which is password-protected, and encrypted.
Junk Mail
Even though most of us don't want it, the junk mail just keeps on coming, and often can include information on it that you don't want other people to know about. Sometimes it comes in the form of a credit card offer, which you definitely don't want to just toss in the trash. Someone could easily take them up on the offer, which is why you should shred those instead of throwing them out.
Final Black Out Stamp Review
The Black Out Stamp is getting our Thumbs Down review because it doesn't live up to its promises, and is not a solution for identity theft in any way, shape, or form. Almost every single one of its claims gets debunked, even the claim of the ink being permanent and not washing off. It's very clear to see that the ink can be smudged, and rubbed off, making it even more ineffective.
Our Recommendation
Go with a shredder for all of your sensitive documents. This is a time-tested way that is even used by banks and other companies that deal with a lot of information that they don't want leaked out.
What do you think? Does Black Out Stamp work or not?