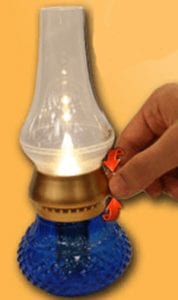 Any type of lighting is important and looking for the type that looks great and saves you money on your utility bill has become something that many people are really interested in. The Blow Lantern is a new type of lighting to hit the market and we thought you may want to know what we had to say about it.
Overview
The Blow Lantern looks like an old fashioned oil lamp but comes without all the hassles and potential dangers that this old fashioned lighting had attached to it. They are really cute, a good size and best of all are comprised of a LED light that you can blow out when not in use. Plus, you can blow it on! Now how nifty is that!
The Claim
They say the Blow Lantern will give you 360 degrees of illumination when its activated. They claim you will enjoy about 100,000 of lit hours. The globe is made of ABS material so you won't be dealing with fragile glass globe chimneys.
The Hype
Safety is the biggest factor here when you review the marketing material of this product. Anyone that has used oil lamps knows that there is always a danger of fire, plus the oil smells awful, then there is the soot it creates that is messy to clean up. The hype here focuses on these lamps being so safe that they are easy to use by both children and the elderly as well. There are no knobs to turn to activate the light or turn it off so these age groups don't have any challenges to face in order to use the lights.
The Cost
Be prepared to pay $12.99 for the lantern with a cost of $6.99 for shipping. Plus for an extra $6.99 you will get a second lantern.
The Commitment
With something as easy to use when it comes to lights such as this there is no really commitment except to know that you simply have to blow them on or off.
Evaluation
The first thing we wanted to consider is that this type of lighting is really for emergency lighting, so why not just resort to the good old flashlights when needed. When you look at the Blow Lantern it is really attractive and will add a nice ambiance to any setting it is used it, which a flashlight doesn't. Besides with this type of lighting it could be used in many different scenarios. When you want to leave just a small light on to add some light to a room it's perfect. The kids can use it as it is safe to do so. It would make a perfect light to have beside a senior's bed to be used during the night if needed. So, overall we could think of many different types of uses for this kind of light.
Final Blow Lantern Review
If you have been following our other lighting reviews then you may have seen what we had to say about the Liberty Lantern. This too is a form of LED lighting on a little larger scale. They are also more expensive than the Blow Lantern to which we are giving a Thumbs Up rating for. We liked all of its simplicity of use, particularly the safety issues that have been addressed, and finally the fact that they really do look nice and will add to the mood of the moment they are used in.
Our Recommendation
We like to cover all the potentials that any product we review may have. So we have talked about how this lighting could be used in different circumstances around the home, but there are some that like to rely on portable lighting like this for their outdoor activities and especially camping. While there may be nothing stopping you from taking the Blow Lanterns along with you for small lighting uses did you know that now you can also rely on LED lantern lighting for the bigger camping lighting demands?
What do you think? Does the Blow Lantern work or not?