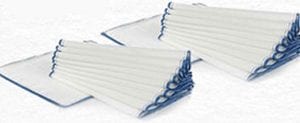 One of the most important topics that we like to talk about are health and safety issues, so we focus on a lot of products that deal with this. That is the reason why we are going to review the Wood Weave which is a cleaning cloth that is suppose to eliminate a lot of potentially harmful germs particularly in the kitchen.
Overview
The Wood Weave is promoted as a cleaning cloth that is comprised of several layers of wood fibers that make up the cloth. They are being sold in packages of 5 by the promoter.
The Claim
There are some pretty strong claims being made in respect to the Wood Weave cloths. The promoters are claiming that one cloth can absorb 99.9% of the bacteria it is supposedly cleaning up. Then you just have to rinse them out and they are ready for use again.
The Hype
First of all nobody likes the thought of germs lurking about especially on the counters where they are preparing food, so the hype here is that the cloth can collect 99.95 of the germs. Then they focus on the going green trend where nobody wants to use chemicals for cleaning anymore, and if you buy these cloths then it would seem like you no longer have to.
The Cost
You can expect to pay about $22. for a collection of 5 Wood Weave cloths. If you are willing to pay an extra $4.95 for shipping and handling you can get 5 more.
The Commitment
First you are going to have to resign yourself to the fact that you still need to clean the counters and other items that you normally do. Even though the product is promoted that you don't need to use a cleaner with their cloths you still have to utilize some physical effort.
Evaluation
We begin our evaluation of this product by not digesting what is said in the promo material but what is NOT said. It says that it rinses away the germs, but it doesn't say it kills them. If rinsing way germs were that easy, then any cloth that could collect the bacteria would suffice. In the past there has been a lot of discussion about how cleaning cloths can harbor bacteria. Recently there was an information release about how even cleaning chemicals have a tough time killing bacteria once it has had the chance to form a biofilm on surfaces.
Final Wood Weave Review
To err on the side of caution we are going to give the Wood Weave a risky Try/Buy rating. There is not enough evidence to support that bacteria can simply be rinsed out of cloths. There is no supporting evidence of any type of scientific study mentioned in the promotional material that backs their claim of the bacteria absorption of 99.9%.
Our Recommendation
In our do it yourself section of reviews we talked about the power of vinegar in regards to bacteria, and it has been found that although this out of the cupboard product is really effective against some germs, there are some forms of salmonella that even it won't kill. There are just some germs that you don't want to mess around with, and yet we can be easily exposed to them. Don't build up a false confidence based on any product's hype about killing bacteria unless there are some sound studies that have performed to back it up.
What do you think? Does Wood Weave work or not?