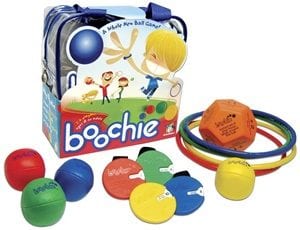 During the dog days of summer when the kids are finally out of school and we have not gotten completely tired of having them home all day as parents we are always on the hunt for new and exciting things to do to keep them occupied inexpensively. Boochie is definitely one of those ways!
Overview
Boochie is a game for the kids that is comprised of some brightly colored rings and balls and some other neat components that are sure to intrigue the little ones.
The Claim
The claim is that Boochie is a new twist on an old game. As kids most of us played some version of the ring toss type games or horseshoes and that is what Boochie represents, ring toss taken to a whole new and interesting level.
The Hype
The hype for Boochie extends from that old association. We played these types of games ourselves as children and want to introduce them to our own kids and grandkids but with a new twist added to ramp up the fun!
The Cost
The cost for Boochie differs from website to website, amazon indicates that it is sold by third party vendors and starts at $55.26 CDN but we have seen it advertised for less on other sites so be sure to do your homework and find the best price in your area or at local retailers if they stock the product.
The Commitment
Other than the commitment to having an exceptionally good time with your kids or grandkids there is no commitment required for Boochie. The game come in a durable bag for storage when not in use and is small enough to fit on a shelf in the garage or basement easily.
Evaluation
The object of the game in Boochie is to toss your Boochie ball first and then try and get your own hoop and bean ball a close to your Boochie ball as possible. Sound pretty simple eh? Well, not so fast! We told you there was a twist didn't we? On each players wrist they wear a spin wheel instruction device that tells the player exactly HOW they must throw their hoop and bean ball. Behind the back, standing on one foot or even between the legs! This simple twist will have the kids and adults contorting themselves into hilarious positions to try and toss their units to the Boochie ball to score the points required for a winner.
Final Boochie Review
Boochie is sure to be a hit with all the kids, no matter what the age! Parents will be sure to have fun watching or joining in on the action as well! A great take on an old classic game that is both inexpensive and durable enough to last for many years! Boochie has been voted as one of the best games of the summer on a variety of internet lists!We have no problem whatsoever voting this one a thumbs u. Tons of summer fun for all ages and will not break the bank account at all. What more could you ask for??
Our Recommendation
Keeping the kids happy during their summer vacation is important and outdoor fun is a sure way to do it. Check out our other toys that we have reviewed in the past for some other great suggestions.
What do you think? Does Boochie work or not?