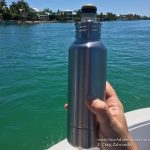 There are a lot of beer drinkers that want to rely on the best way of keeping their beer colder for a longer period. A solution for this may be the BottleKeeper.
Overview
The BottleKeeper just as the name suggests is a thermal type bottle holder designed to keep your bottle of beer colder for a much longer period. It is a bottle holder and insulator all in one.
The Claim
The promoters claim that BottleKeeper is made for convenience and serves an important purpose. There are a lot of people who enjoy their beer straight from the bottle. However, on a hot day, it doesn't take long before a cold beer becomes a warm one. The only other way to avoid this is to guzzle it, and most want to enjoy their beer by not having to do this. The BottleKeeper allows them to do this.
The Hype
The hype around the BottleKeeper is the convenience of having a quick answer to keeping a bottle of beer cold.
The Cost
Depending on where you buy the BottleKeeper and which size and version you opt for will determine the price. For example, you may be able to buy one from the spring collection for $34.99.
The Commitment
You will want to make sure that you carry the BottleKeeper along with your case of beer if you are going to be visiting and enjoying some ale at that time. Also, check the list to ensure that the Bottle Keeper is compatible with your brand of bottled beer. It most likely is as the list is quite long.
Evaluation
To really evaluate the BottleKeeper it means looking at the technology that it is based on. It includes a cap that can seal the inner bottle. For convenience, it has a built-in bottle opener. It is quality made with extra padding to avoid damage from impact. The interior is insulated which allows for keeping the beer cold. Keeping it clean is no problem as it is dishwasher safe. A bonus is you can get your BottleKeeper engraved if you wish to do so. This would make a perfect gift for those who enjoy a cold beer from the bottle.
Final BottleKeeper Review
You are going to want to decide on which size and version you want for the BottleKeeper as there are some great choices. We are prepared to give this product a thumbs up. Mostly because the standard original version has some good feedback and there is every indication that there is a definite need for a product like this. It is affordable, and there are some great choices that it comes in as far as colors go. Also, being able to engrave it is kind of neat. For those who enjoy a cold beer, they will agree there is nothing more disappointing than when this beverage becomes warm. So investing in the BottleKeeper may be well worth it.
Our Recommendation
If beer is something of interest to you, then you may want to check out what we had to say about Mr. Beer.
What do you think? Does BottleKeeper work or not?