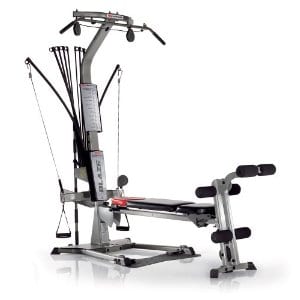 When Bowflex first came out it was a direct competitor to SoloFlex, and did away with the rubber bands, incorporating a system of rods that are bent to provide resistance.since first being released in the 1990s, it has undergone many updates and the latest models have got this down to a science. But what do people say about the results they get with their Bowflex, and is this a piece of equipment you will use, and that would get you into shape?
Overview
The common thought has always been if you want a real workout you go to the gym, and if you want have to work out you stay at home. Nowadays, people are getting quality workouts at home from all sorts of different equipment that's been hitting the market lately. Even though the Bowflex has been around for quite some time, they keep making new versions of it, making improvements, and adding new features. This is not only to stay competitive, but also to make a better product.
The Claim
They say by working out just 20 minutes a day, three times a week, you be able to get a "Bowflex Body". They make this claim on their official website, and they stick it right next to a model that looks like he's been working out rigorously for 10 years.
The Hype
Bowflex makes the mistake of putting a time constraint on the kind of results you see. If they just would say that you get a great body working out for 20 minutes per day, three times a week, baby fine. But putting a six week time limit is just a little too much, and can be thought of as hyping up the product.
The Cost
In the world of home exercise equipment, the Bowflex is not the cheapest thing you can buy for your home. However, this is the closest you'll come to bringing the gym to your home. With all of the different exercises you can do, and all of the different attachments that come with it, you'll be able to replicate a full routine at the gym using several different machines. That being said, their most expensive model clocks in at $1800, but they also have a $900 model, as well as a $450 price point, so there's really one for every budget.
The Commitment
Even though the Bowflex is placed right into your home, you still need to commit to using it, and not just as a clothes rack or a new place to put your paperwork. The convenience factor is through the roof, all you have to do is walk up to your Bowflex and start using it. You don't have to get in the car, go to the gym, drive back, you can just get started. Plus, you can listen to your own music and you don't have to worry about other people watching you work out.
Evaluation
Bowflex is made by Nautilus, and Nautilus is known for making high-end, high quality gym equipment. They can thus be inferred that they are using the same high standards in the Bowflex unit, which is why it gets so many positive reviews, and has stood the test of time being on the market for over two decades.
Revolution
This is the most advanced system that Bowflex makes, and you can tell by the price. This is twice as much as their PR3000 system and uses a new resistance system that is possibly even smoother than their previous models. This is really a sophisticated piece of home gym equipment.
PR3000
They've done away with the bench on this one, utilizing only a chair. You can still do most of the exercises that you can do with previous models, but this takes up less space. The price tag is about twice that of their other model, the PR1000. It definitely has some added features to it, but we're not sure if they can justify such a hike in price.
PR1000
This is the other model still in production, and very similar to the PR3000. You still get the bench on this one, but what you don't get is the expandability. You're stuck at 210 pounds, and you can't upgrade like you can with the PR3000. So you are definitely in danger of outgrowing this unit as you get stronger.
It's been nearly 4 years since Bowflex has come out with a new model, so you better believe that they are cooking up something and will be dropping a new version on the market soon. Since 2005 they have released a new model every year, so they are definitely overdue for something new.
Final Bowflex Review
You can't ignore the fact that Bowflex is made by a high-quality company, has stood the test of time, and has plenty of positive reviews from satisfied users. There's nothing out there to give any reason to think that Bowflex doesn't work, as long as you put time and effort in. This is the closest you'll come to having a full gym in your home with lots of different machines, and the ability to do a full body workout.
Our Recommendation
If you've always wanted to have a SoloFlex or a Bowflex, definitely grab a Bowflex. It's got a better design, smoother resistance, and the latest version is much more advanced. This is something you can have in your home for years and years by making a one-off investment. When you compare it to a monthly gym membership for multiple years, it's really a cost savings.
What do you think? Does Bowflex work or not?