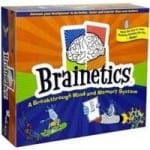 Math is a subject that is used in almost all walks of life in today's climate from complex algebra used by scientists to builders on construction sites and Brainetics is a tool designed to help with anyone looking to improve their math skills.
Overview
Brainetics is a math tutorial program that is designed to build the users confidence in using math. It can be used by people as young as 9 as well as by senior citizens that are looking to keep the brain active.
The Claim
Brainetics official website claims that their product will help to "Develop a mega memory" and aid the user to "master amazing math feats". While the majority of people use math in their day to day work or school life, they mainly use simple or basic math. Brainetics theory is that the program can build on each individual's confidence in math and lead them to a greater knowledge which will undoubtedly be of use.
Brainetics is advertised as the means to "unlock you learning potential" which will be invaluable when it comes to trying to find a job.
Brainetics very clearly and proudly states that the age range of their product is from 9-90. It will help young children gain better grades in high school and set them up well for college and the world of work ahead. It can also be used as an aid for further learning to college students if they were less able to perform in math during their prior learning.
Those people that are already working and perhaps need a boost in their confidence around math can also gain huge benefits from the Brainetics training program and it can lead to a better future with a promotion or a greater job. Senior citizens that have taken retirement are also fans of Brainetics as it is a great way to keep the brain stimulated.
The Cost
The Brainetics package includes 5 DVD's, a parent's manual, a playbook and a set of flash cards and playing cards. For the complete set, the price is $149.99 including shipping. Brainetics also offer a 30-day trial which is priced at $14.95 after which the full price will then be a further $149.99 making the total price $164.94 but gives you the added option and ability to try before you buy.
The Commitment
Once Brainetics is purchased, you can learn in the comfort of you own home and at a pace that suits you. There are no mandatory tests to be done but the advantages will be clearly seen when it comes to a math problem that would have previously left you stumped. You can even record the content onto personal music players and learn on the move.
Whatever way you choose to learn, Brainetics is far more convenient and requires a whole lot less investment in time and money than it would to attend a full college semester or an evening math class.
Evalutation
Brainetics digs in to the roots of math and gives the user a deep understanding of equations and algebra. The tutorials will stimulate two parts of the brain simultaneously to help the learner pick up new facts and information while also training the memory so that these facts are not forgotten.
It is perhaps one of the most fun ways in which you can learn further math and is extremely flexible. The course can be done from anywhere with a computer and at any time of the day. You can also introduce competition into the leaning process by competing in the fun tests using the flash cards with your friends, family, or colleagues.
Our Final Review of Brainetics
It is hard to find any bad reviews about Brainetics. Having the ability to enhance your personal skills and boost your career is a great advertisement for a product and all users have commented that it propelled them to greater heights. For those that are already extremely proficient in math, this may not be a product for you, but for the majority of people that are not math wizards, this product will make a difference.
Our Recommendation
Brainetics is quite pricey so it is advised to take advantage of the 30 day trial before purchasing the full works. This will give you a taste of what the course is about and the structure. As for users, those that may be stuck in a dead end job or falling behind at school or college, Brainetics does work and should be invested in. Promotion and pay raise is not guaranteed with Brainetics but it will give you the best possible chance.
What Do You Think? Does Brainetics Really Work?