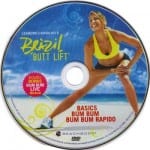 If you want a higher, firmer bottom then the Brazil Butt Lift could be your ticket. Perhaps only one other part of the female anatomy gets more attention than the booty. Unlike the breasts the butt can be worked out and reshaped without the need for surgery or other enhancements. But it can be so hard to target this area specifically, and effectively.
Overview
If you've ever wanted to have a bigger butt but didn't want to increase the size of your thighs then BeachBody, the makers of Brazil Butt Lift, have you in their sights. They are the masters at finding out what fitness products are in demand, and then doing their best to fill the void. Since many women are unhappy with their back ends, there is high demand for a product that promises to lift, shape, and reform this attention-getting section of the body.
The Claim
You can get a tighter, rounder, more sumptuous booty by following the system created by Leandro Carvalho. That's the claim, but is it guaranteed?
A sexy butt in 60 days is the guarantee. We think that 60 days is long enough to spend on one area and see results. Also, there is enough margin of error here so that after 2 months of dedicated training, you should be able to see some real results, even if you haven't reached your ideal look yet.
Many of the world's top bikini models work out with Leandro Carvalho. It's hard to substantiate claims like these because how would you go about proving or disproving this?
The Hype
The hype comes because ever since Jennifer Lopez made having a big booty in demand, women have been trying to increase the size of the derrière without increasing the size of other areas. The latest celebrity to don the big butt is Kim Kardashian. These celebrities and a host of others all lead to hyping up having a round booty.
Not too much hype in their ad:

The Pencil Test
The infomercial for this product really catches your eye when they talk about something called the pencil test. This is where you put a pencil under your butt cheek to see whether it stays in place. The theory is if your butt sags too much the pencil will stay in place. If it is lifted to the right spot there is nothing to hold up the pencil and it falls. It's a pretty effective test, and you can retake it after you start your training to see if you improve.
The Cost
You can order directly from the BeachBody website and pay three payments of $20 plus $13 shipping and handling for a total cost of $73. It's important to realize that you aren't just getting the DVD set here, it also comes with some added bonuses to help you complete the program accordingly. There is a resistance band that will help you tighten your gluteus muscles on some exercises.
The Commitment
Like any workout program you have to be committed to the long haul. In this case you have to be willing to stay with the Brazil Butt Lift program for at least 60 days if you want to see the kind of results that the women show in the promotional video and on the website. Working out your butt is hard to do because leg muscles stay sore the next day and also the following days.
Evaluation
By working all three muscle groups in your butt the Brazil Butt Lift system uses a 3-step approach. This is designed to not only shape your butt, giving it that nice rounded look, but also to lift it, so it doesn't sag. It also firms your tush so that you have some useful muscles that can power you through your day, and feels great to the touch.
Final Brazil Butt Lift Review
We like the folks over at BeachBody. They don't mess around. Some fitness programs mince around and don't go full out to get you what you're after. Several products from BeachBody, including Hip Hop Abs, Insanity, P90X, and Asylum, all take your fitness to the next level. It is our opinion that they start by identifying an unmet market, and then go out and find the person best suited to create a winning product.
All of their programs are also guaranteed, so it doesn't hurt to try Brazil Butt Lift for yourself and see what sort of results you get. If it works it's definitely worth the purchase price, and if it doesn't you're only out some modest shipping and handling charges.
Our Recommendation
If you've always wanted a J-Lo booty this is your best chance at getting it. Many personal trainers do not know how to target this specific region and you'll end up with thick muscular thighs as well is a bigger butt. Using a system that is only geared towards producing results in that area is the best way to go. Since it includes other routines that also work out your midsection and gives you something of an overall workout, we recommend the system.
What do you think? Does Brazil Butt Lift work or not?