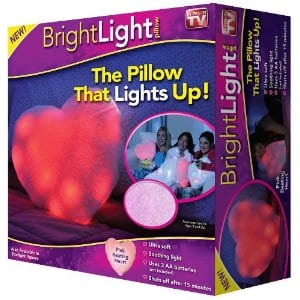 If your child didn't know they needed a Bright Light Pillow they will after watching the TV spot. It strikes a chord with little ones and they see it as the answer to the bedtime woes. But how well does it actually work when you unbox it at home?
Overview
This pillow is supposed to solve the problem of needing a night light for your child, in case they're afraid of the dark. It's supposed to provide a solution by shutting off all by itself, and being soft and cuddly offering extra soothing for them as they drift off to sleep.
The Claim
The makers of the Bright Light Pillow say that it contains 24 LED lights that change color all by themselves and turn off after 15 minutes so they're not left on all night. They say that it it rotates between 5 different colors, and will also go multicolor as well. There's also the option to get a heart-shaped pillow that will light up red.
They also claim that the offer is not available in stores, but that is not true. You can buy it at Wal-Mart, Toys-R-Us, and Amazon. Perhaps at one time you could only get it from their website, and they just forgot to remove that claim when it started to become available through other channels.
The Hype
The hype comes from the infomercials running on TV. Apparently there is a chemical substance in them that makes kids crave one of these pillows as if their lives depended on it. If your child happens to see it there is a high chance that they will ask you for it, and so there is a high chance that's how you ended up on this page trying to see if it actually works or not.
The Cost
If you order from the official Bright Light Pillow page – which most feedback is suggesting is not a good idea – the total cost comes to $28 which includes shipping. They will give you free shipping if you order 3 or more at one time. You can also find these at Wal-Mart for $20 and you can add $25 to your order for free shipping.
The Commitment
In theory all that you would need to do is pop 3 AA batteries into it and give it to your child. The pillow should start up when you tap it, and turn itself off 15 minutes later, as promised.
Evaluation
There is plenty of feedback on how the Bright Light Pillow doesn't live up to its TV performance. And while there are several users that have come back to say that they're happy with their pillow, even going so far as to upload pictures of them with a working pillow, few of these reports speak on the longevity of the product. We have no doubt that when it's fresh out of the box it will light up the first time and provide the experience you were hoping for, but what about a month later?
One thing to keep in mind is that a lot of the complaints are in regards to the company behind the pillow, and the ordering process. The rest of the complaints are focused on the way the product breaks down easily, and requires a copious amount of batteries to keep it running. You can avoid the problems with ordering direct by getting this from Wal-Mart, but you can't get away from poor manufacturing and shoddy wiring.
Final Bright Light Pillow Review
The question is not whether or not the Bright Light Pillow works, it's been shown to actually be a pillow that lights up. The question lies in how long will it work for, once your child starts using it. There are far too many reports of these pillows not being well made, and breaking down soon after use. Not only that but the claim that 2 AA batteries lasts for hundreds of hours is refuted by several customers that have reported having to replace the batteries repeatedly, with some even opting to buy rechargeable batteries just for this purpose.
At a time when LED lights are becoming more and more popular it's amazing that this pillow would ever need to have the batteries replaced, since LED shouldn't be using massive amounts of electricity in order to function.
Our Recommendation
You can take a pass on this pillow, and try to explain to your child that while it looks fantastic on TV, the reality of it is that it probably won't last for very long, and will be relegated to the junk heap before long. To appease them you might want to take a look at Dream Lites have them check out the infomercial and see if they get as excited about this one. The feedback on it is better than with this pillow, although users say it's not much of a stuffed animal and more of a light show.
What do you think? Does the Bright Light Pillow work or not?